The Knox County Schools has released its preliminary proposal for the fiscal year 2017 general fund budget that will be presented to the Board of Education at tonight's mid-month meeting. A general school purpose budget of $453,500,000 is being recommended, which represents an increase of $15,500,000 (3.54%) over the fiscal year 2016 budget.

At its core, the proposed budget includes approximately $12 million for educator salaries and benefits, including a 3% salary increase for teachers, maintaining current percentages paid by employees for health insurance, and offering Workers' Compensation to certified employees for the first time.

Other highlights include:

A 2.5% salary increase for classified employees.
$56,000 to support the work of the Disparities in Educational Outcomes Task Force
Increasing investment in the student transportation program by $1 million
Sustaining KCS's Personalized Learning Environment (PLE) effort and initiating a comprehensive instructional technology initiative at the high school level
"Our teachers and staff continue to do an extraordinary job of facilitating student learning and success in an era of great change and heightened expectation," said Dr. Jim McIntyre, Superintendent of the Knox County Schools. "A significant salary increase for our hard working teachers and support staff both recognizes their remarkable success with our students, and also ensures that the Knox County Schools can retain our outstanding educators and recruit the next generation of exceptional teachers."
The FY17 budget must next be approved by Knox County Commission.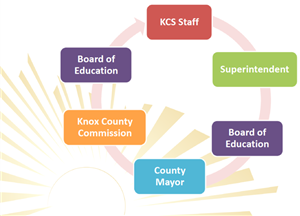 The Knox County Board of Education is responsible for developing a balanced budget and for determining how funds within the budget are to be utilized to meet the Board of Education's goals. The Board has no power to change funding sources or amounts.

Knox County Commission determines the final funding amount for the Knox County Board of Education as part of the overall Knox County budget but does not determine how the funds will be utilized. Knox County Commission has the power to change funding sources or amounts.