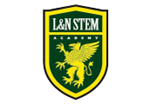 L&N School Tour Registration
We offer school tours for prospective students and families. Tours are lead by our student leaders called Gryphon Guides. Visitors will view both buildings, learn a little history about our school and the historic L&N Station, visit active classrooms, and interact with students. Tours are limited to 25 families. If you register for a tour you are unable to attend, please call to cancel so another family may fill your spot.
Please click on the date for which you would like to register.
Tuesday, October 17, 2:00 pm FULL
Wednesday, October 18, 10:00 am FULL
Tuesday, November 14, 2:00 pm - FULL
Wednesday, November 15, 10:00 am - FULL
Magnet Showcase Evening Tours
Thursday, November 30, 6:00 pm
Thursday, November 30, 6:30 pm
Wednesday, December 13 10:00 am