The window for both General and Magnet Transfer will close at 4pm on Tuesday, February 21, 2017.
National Magnet Month
Updated: February 8th, 2017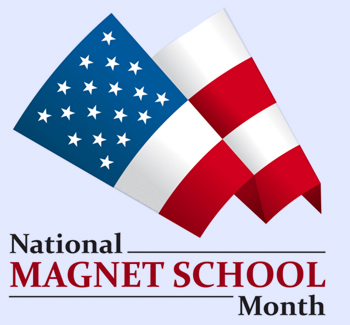 February is National Magnet Month. Each of the KCS nine magnet schools are celebrating their magnet programming and themes in various ways throughout the month. Please use the Related Links on the right side of this page to check out our individual magnet school websites or contact the schools to find out more information. Magnet Transfers for the 17-18 school year are being accepted through February 21. Happy National Magnet Month!
---
TeacherPreneur Grant Winners!
Updated: December 22nd, 2016
We are proud to announce that out of all of the TeacherPreneur grants awarded, four winners are from our magnet schools. Sandy Morris from Green Magnet Academy will bring Virtual Reality (VR) to her students. Rich McKinney at Vine Middle Magnet will also introduce his students to the world of VR. The two schools plan to collaborate to make the experience even more exciting for students. Tommie Branscum from Green Magnet Academy won an award to expand on a MakerSpace that she began last year after receiving a TeacherPrenuer grant. Lastly,Cheryl Burchett at Beaumont Magnet Academy won a grant to bring choice to her art classes. We cannot wait to see these plans come into reality as our students begin exciting new projects. Go to the TeacherPreneur webpage to see a list of all 2016 TeacherPreneur winners.
---
2016-2017 Innovative Leaders Institute
Updated: September 15th, 2016
The Office of Innovation's Magnet Department is proud to announce that Green Magnet Academy (Dexter Murphy & Sandy Morris), Vine Middle Magnet Academy (Cindy White & Rich McKinney) and Austin East Magnet High School (Nathan Langlois & Melissa Glover) have been invited to be a part of the 2016-2017 Innovative Leaders Institute. The institute provides participants opportunities to network with other building-level leaders from across Tennessee, visit innovative schools to examine different models of STEM integration, and share best practices and resources with the expectation of having an immediate impact on leader practice.
The Institute is designed to:
Develop concepts of innovative leadership practices
Enhance capacities to promote best practices across the curriculum
Develop strategies to promote staff effectiveness and improve teaching and learning environment
Prepare leaders with the procedures and policies to promote success
The Institute is led by experienced principals from Tennessee, who were selected because they have demonstrated positive impact on their schools through student performance, teacher retention, and creating and supporting an academically challenging learning environment for students.
---
CMA's Sustainable Pathway In The Shopper
Updated: April 13th, 2016
Click here to read about Career Magnet Academy's Mike Blakenship and the exciting things happening with their Sustainable Pathway.
---
TN Commissioner Visits Green Magnet Academy
Updated: October 22nd, 2015
---
Hats Off to Green Magnet!
Updated: September 29th, 2015
If you could create a hat to do anything you wanted, what would it be? Students at Green Magnet Academy were asked that question and then got busy creating the most unique headwear in the county.
Click here to read more on Page 8 of the North/East Shopper News!
---
What free community college means to kids at Austin-East Magnet High School
Updated: January 12th, 2015
"President Obama's community college plan likely won't happen nationwide anytime soon. And it won't be a cure-all for our student loan debt woes. But the idea is already sparking hope among low-income Tennessee students.

On Friday, Obama proposed slashing the cost of community college "down to zero." The deal would cover two years of tuition for any American willing to work toward a degree or certificate while maintaining a 2.5 grade point average. Building a stronger workforce, Obama declared, is a bipartisan goal."

Read local reactions to this new initiative, including some from a few students at Austin-East Magnet High School, by clicking this link to the article from The Washington Post.
---
Beaumont Academy Mural
Updated: February 7th, 2014
A mural was painted on the outside wall of the building, in conjunction with AE advanced art students. Beaumont Art Club will be finishing the mural in the days ahead.

---
Important Magnet Dates & Info
Updated: January 10th, 2014
Click on the "Read More" link below for an up-to-date list of all all of the Magnet Showcase and Open House dates and information for each school in Knox County. We will be updating this list as schools continue to confirm their dates.
Read More >