Special Laptop Deployment
After holding eleven different laptop deployment events and servicing over 900 families last week, we still have about 75 students who still have not gone through deployment. I understand if this is not something you want for your child or there are extenuating circumstances that cause scheduling conflicts which make it difficult to attend. Last week, I had to take off from work to attend one of my children's functions, so I get it. Some folks have tried to pop in during the day to do this. Please understand deployment is more than just care and responsibility of the device, but a conversation about expectations, how we plan to support your kids, and how you can help. We do not have a schedule that allows for drop-in appointments! In addition, as you know, checking out an $800 computer is more than just picking it up. The proper paperwork must be completed, any bills for damages cleared, and students must log-in to complete the process. This takes the full hour even with a full staff working it. To accommodate our remaining families, Mr. Carter and I will come in early and stay late to hold three special Computer Deployments sessions this Wednesday, August 16th:


Session #1 7:00 AM - 8:00 AM


Session #2 12:00 PM - 1:00 PM


Session #3 7:00 PM - 8:00 PM


We shortened it to an hour to get you in and get the vital info, which requires the full time, so please be present for the start times. We will take care of the rest with students during the school day. We hope this helps meet the needs of our remaining families! Most schools host 2-3 deployments, and by the end of the day on Wednesday, we will have completed 14. After this date and these provisions, we will not hold any more deployments. If you are still wanting a laptop for your child, please make arrangements to attend one of the three final sessions. Hope to see you on Wednesday!
---
Freshman Registration Form Example -

"The Pink Sheet"
---

Makeup Work Policy
---

Food City Bucks
Did you know that Food City gives $600,000 per year to area schools? Link your Valucard, then purchas participating brands in order to support the school of your choice. Click here for more details.


---
| | |
| --- | --- |
| | South-Doyle High School Newspaper's blog at the following link and take our community survey. |
---
Keep up with the latest updates by following

Mr. Berry on twitter @SDCherokee
---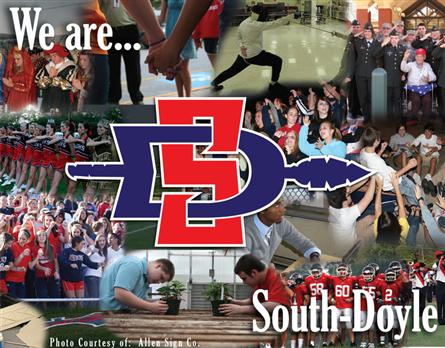 KCS announces South-Doyle High a Winner of School Technology Challenge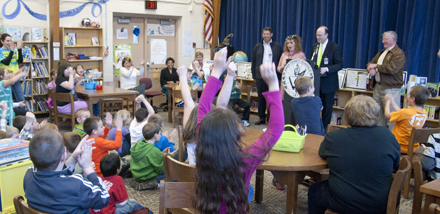 Dr. Jim McIntyre, Superintendent of the Knox County Schools, recently announced the winning schools of the School Technology Challenge, which is an internal competition for selected schools to begin a 1:1 technology effort (one technology device for each one student, and each one teacher). Interested schools went through an application process, and a total of 28 schools applied for consideration in this pilot initiative.
"We believe selecting a small, representative sample of schools to embrace instructional technology will leverage the creativity and expertise within our schools, build capacity for future expansion, and demonstrate success in schools across our community," McIntyre said. "With this initiative, parents, teachers, stakeholders and taxpayers will be able to see how instructional technology is enhancing education right in their own neighborhood."

@SOUTHDOYLEHS
South-Doyle High School Strategic Goals
Urgently Continue the Pursuit of Excellence for All Students
Focus on the Learning Environment
Develop Excellent Educators through Focused Professional Growth
Increase Community Engagement
2020 Tipton Station Road
Knoxville, TN 37920
Young Campus: