Project Search Helps Students
Develop Job Skills
Posted by JOSH FLORY on 5/18/2021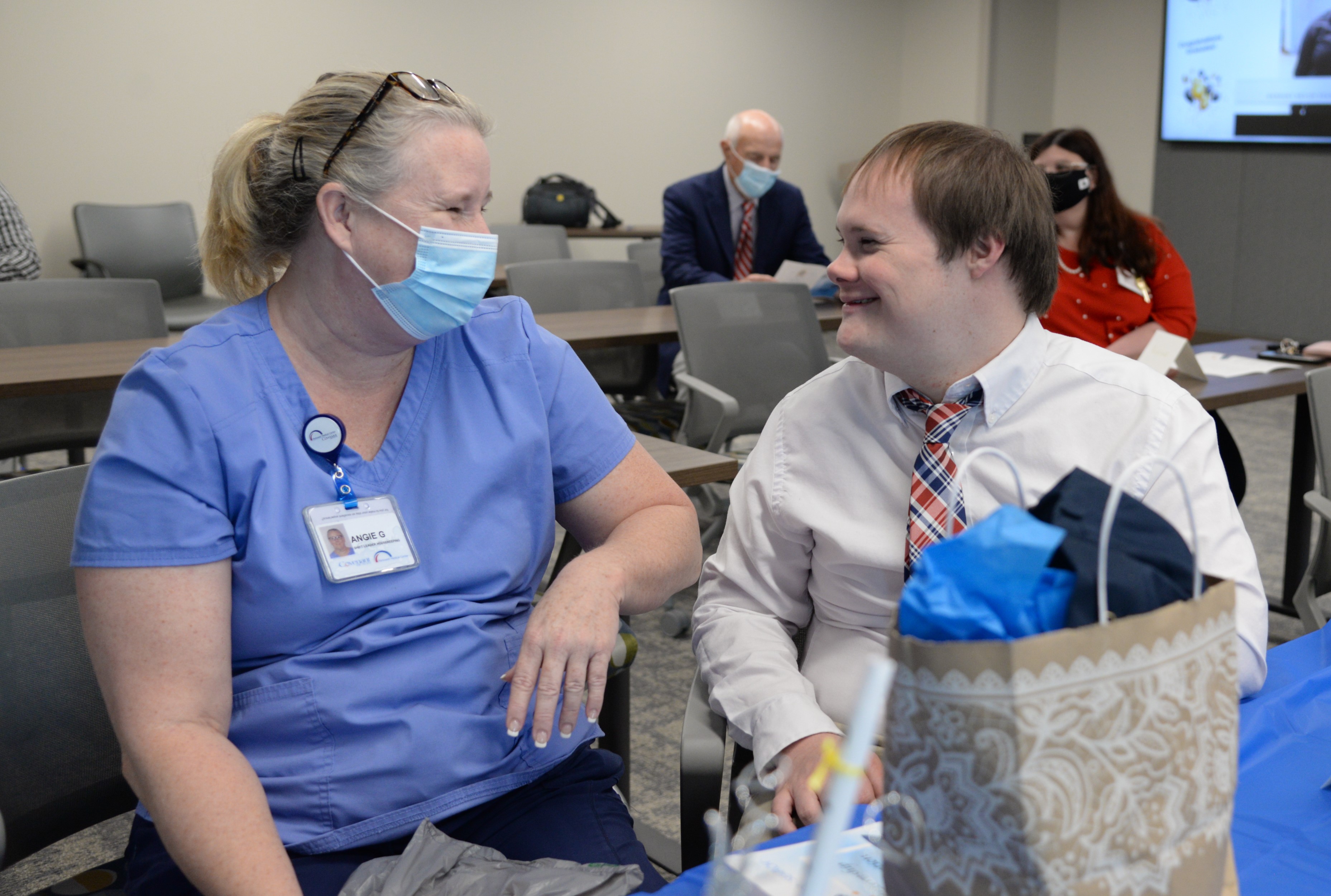 A group of Knox County students enjoyed special recognition this month during a graduation ceremony at Parkwest Medical Center.


Over the last two years, Parkwest has teamed up with Knox County Schools and Sertoma of Knoxville on Project SEARCH, a program that provides internships to high school students with disabilities, with the ultimate goal of preparing them for post-secondary employment.


At a ceremony on May 14, the program celebrated a graduating class of nine interns who had worked in departments throughout the hospital, including Housekeeping, Surgery, Food Prep, and the Dish Room.


The graduates included Alex Webb, a Halls High School student who attended the ceremony with his parents, Doyle and Amy Webb.


Amy Webb, a teacher at Adrian Burnett Elementary, said Alex learned a variety of skills that will help him in the future, and became more independent while learning about his strengths and weaknesses.


"He's very confident now that he can work out in the workforce and do different tasks," Webb said.


Project SEARCH has been in place for two years at Parkwest, although the first year was partly interrupted by COVID-19. Participating students submit applications in the January or February before their exit year, followed by a skills assessment and parent interview.


Michelle Pittman, of the Knox County Schools Special Education Department, said the program is slated to include 10 students next year, and organizers are hoping that it will eventually grow to more participants.


While the graduates learned valuable skills from working at the hospital, a steady stream of employees who stopped by before the ceremony began highlighted the friendships that were also created.


In a speech to graduates and their families, Parkwest President and Chief Administrative Officer Neil Heatherly acknowledged a ripple effect from Project Search, saying that while he initially understood the program's benefits, "I was nowhere close to fully … realizing the impact these young men and women have had on this entire hospital."


Powell High student Robert "Jake" Elliott was another graduate recognized at the ceremony. His mother, Candy, said her son has always had a good attitude, but Project SEARCH helped him become more independent.


"He gets up, gets ready and wakes us up to bring him to work at 6:00," she said.


For his part, Jake Elliott said he cleaned pots and pans and made up bed rolls, but particularly enjoyed working in the cafeteria: "It was awesome."