Green Student Is State Finalist
For STEM Contest
Posted by JOSHUA FLORY on 4/28/2021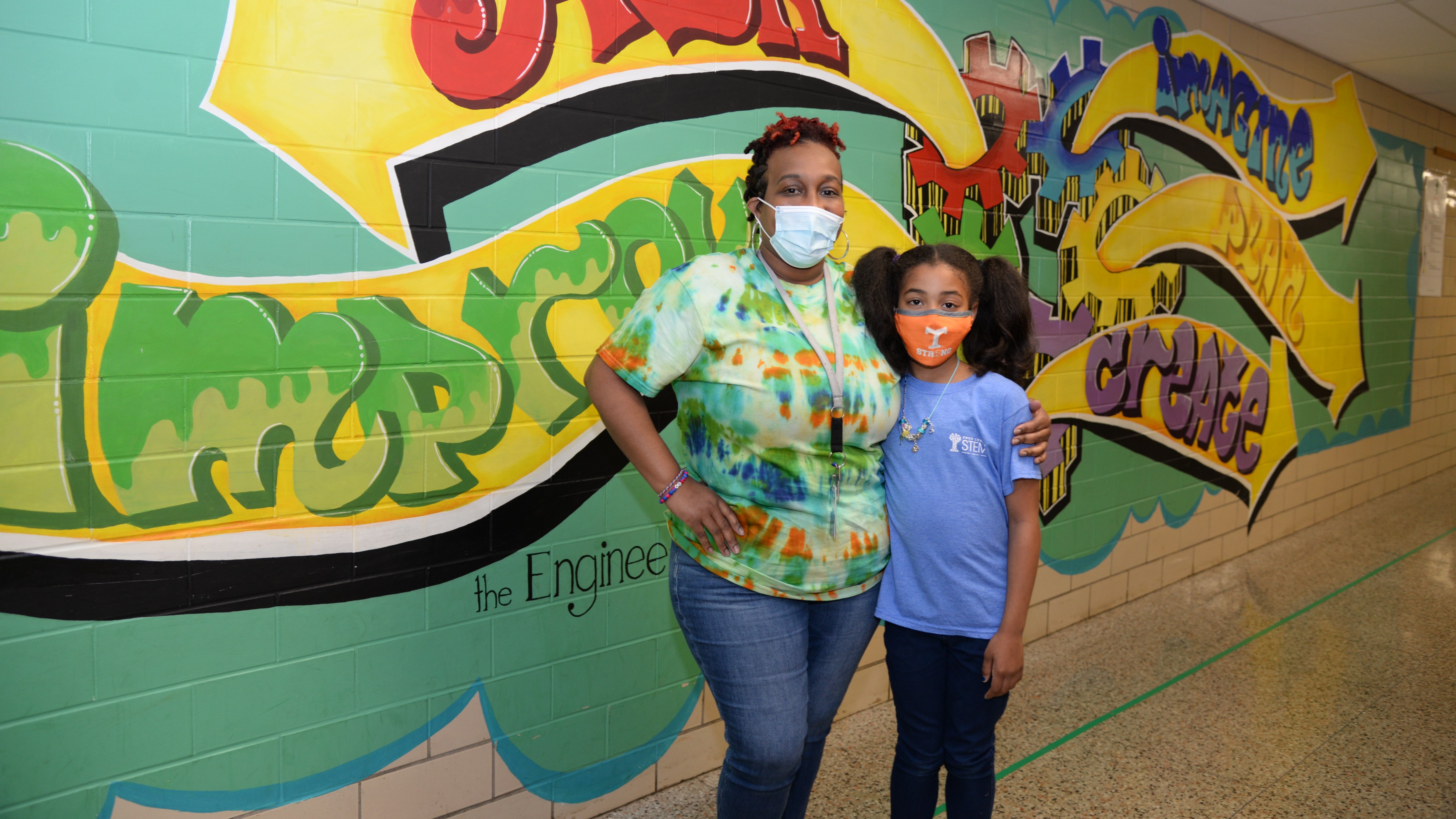 When 4th-grader Alayah Sykes learned about entrepreneurship in the Design Lab at Green Magnet Academy, she loved the idea of starting a jewelry business and marketing her designs.


There was just one problem. "I'm only 9 years old and I have a long way to go before I'm an adult," she said. "And I don't want to wait."


That can-do spirit prompted Sykes to launch a start-up, and helped her gain recognition in a recent competition that promotes entrepreneurship and innovation.


Sykes and dozens of classmates participated in the Tennessee STEM Innovation Network's Statewide Design Challenge, which encourages students to create a business plan for a social enterprise, which donates a portion of its profits to community improvement.


The effort was led by Tiffany Collins, the K-5 design lab teacher at Green Magnet. Collins said the idea is to expose students to careers in the STEAM field -- Science, Technology, Engineering, Art and Math -- while also inspiring them to pursue post-secondary education or entrepreneurship.


Collins said students at Green have been reading a book about entrepreneurship, and applied the steps of the engineering design process -- "Ask", "Imagine", "Plan", "Create" and "Improve" -- in creating their business plan and pitch.


As part of the competition, students created a business plan along with logos, marketing materials and a video pitch. Using a Shark Tank approach, a panel of local judges asked questions and made suggestions, and the students used that feedback to refine their plans, before submitting them to the competition.


Sykes pitched a plan for "Jewels Matter", a design business selling hand-crafted bracelets, necklaces, earrings and ankle bracelets. ​Part of her business plan is to donate a portion of her profits to Second Harvest Food Bank, and her pitch was tapped as a statewide finalist.


Magnet facilitator Sandy Morris said that by creating a business plan, presenting it to judges and then refining it based on feedback, students are embracing one of the most important aspects of the Engineering Design process. And that process, Morris added, will go a long way toward building confidence in students as they advance in their academic career.


As for Sykes, the 4th-grader didn't stop with the business plan. In recent weeks, she moved forward to create and sell jewelry, saying that more than 30 orders came in from her father's co-workers, while other customers included Collins herself.


Sykes said some of her favorite products are seasonal designs -- such as Christmas jewelry -- and that she is planning a future expansion into jewelry for pets.


And at a time when COVID-19 has taken a heavy toll on the community, she said jewelry is something that can provide a boost to their spirit.


"We all need color in us right now," she said. "Because most people, they're just feeling gray … They forget about their hearts right now."