Nutrition Team Committed
To "Heart Work"
Posted by JOSH FLORY on 5/1/2020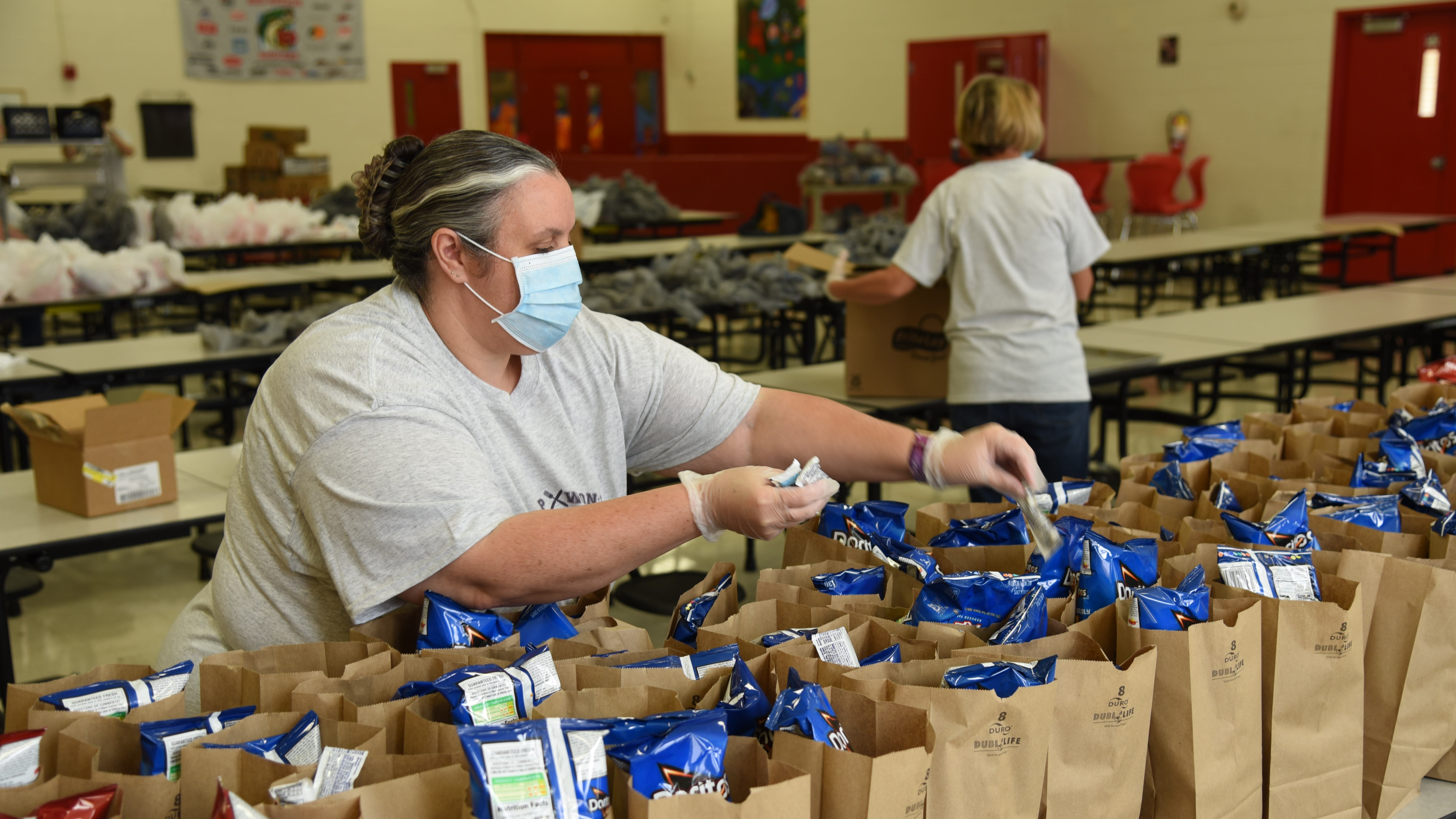 As the cafeteria manager at Gibbs Middle School, Tami Benziger enjoys the chance to visit with hundreds of students every day when school is in session.


It's hard work, but Benziger said it's also "heart work" -- "You've got to love what you do to be able to do it."


That's even more true during the extended closure prompted by COVID-19. Across Knox County, nutrition workers have stepped up to make sandwiches, pack fruit and prepare meals for thousands of students who otherwise might go hungry.


The scope of that operation was apparent on Wednesday at Halls High School, where a team of nutrition employees worked in the cafeteria to prepare meals that were delivered to the school's drive-thru lane on carts, where they were distributed by teachers and administrators.


Brett Foster, the district's Executive Director of Nutrition, said one of the challenges has been making the transition to fully pre-packaged meals, rather than the typical process of giving students options to choose from.


On this particular morning, Foster said employees at Halls had made 1,800 turkey, ham and cheese sandwiches by hand, adding that the extended closure has emphasized the dedication of Knox County's school nutrition team.


"I've always said that they're some of the hardest working people we have in this district, and it's just being highlighted now," she said.


During the closure, KCS has been serving between 10,000 and 13,000 students on distribution days. Through May 20, two days of meals are provided on Mondays and three days of meals are provided on Wednesdays, which means that on busy days the team can distribute nearly 40,000 breakfast meals and another 40,000 lunch meals.


Foster said the pandemic has affected some families who never thought they would need food, but are now struggling with the loss of a job or a reduction in their income.


In fact, Benziger -- who is managing operations at Halls High during the closure -- said she recently spoke to a parent who was considering whether to participate, but didn't want to take food that someone else needed.


Benziger assured her that there was plenty, and said she hopes Knox County families don't hesitate to pick up what they need.


"I know we can't help with their finances or with what's going on in their lives, but we can help to put a little food there for them," she said, "so the money that they would spend on it could go toward something else."