Return to Headlines
District-Wide Winners Honored At Teacher Banquet
District-Wide Winners Honored At Teacher Banquet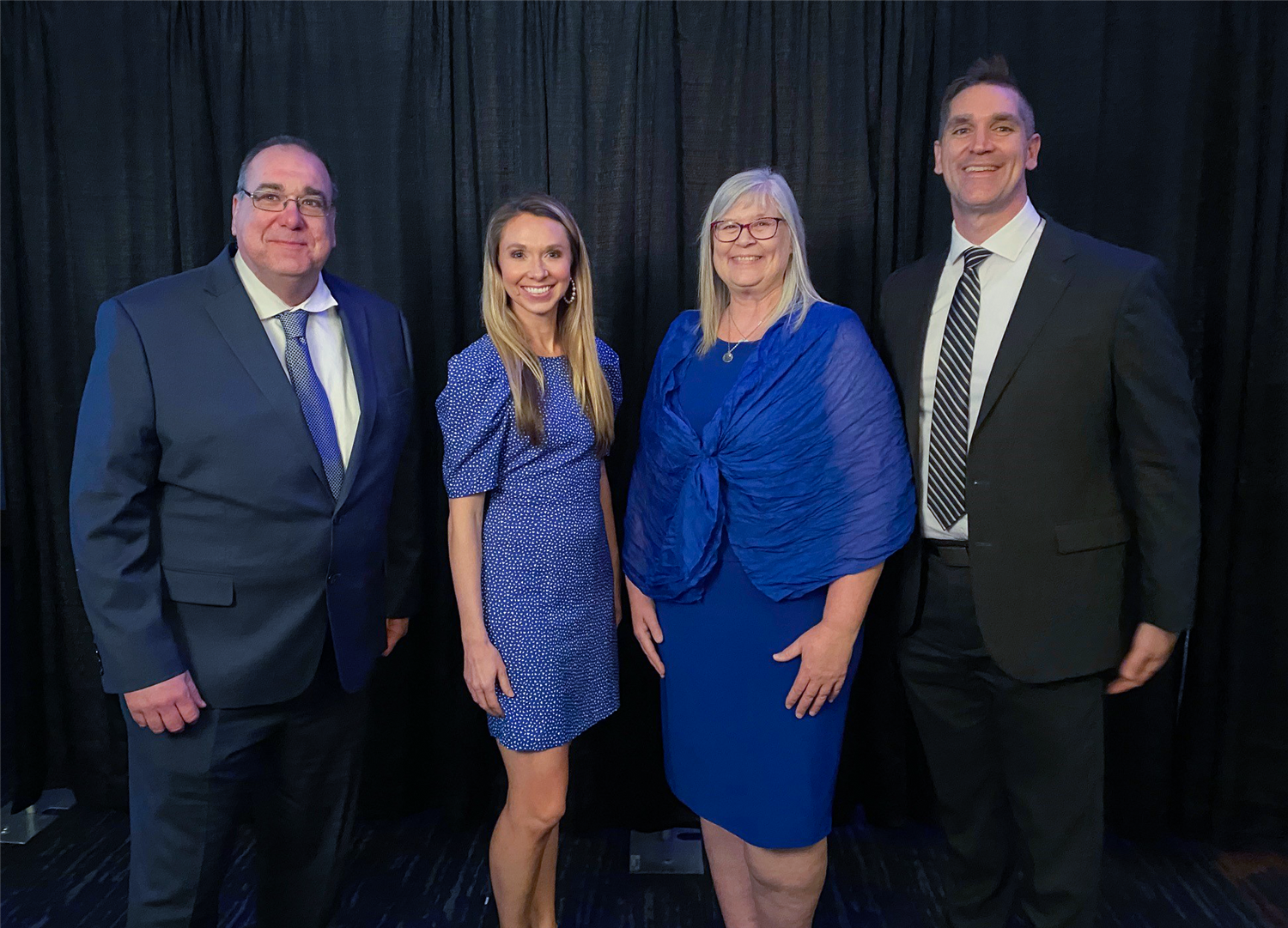 Nearly 200 educators were honored at the annual KCS Teacher of the Year banquet at the Knoxville Convention Center on February 28.
Each district school had teachers represented at the banquet, and district-wide winners were also recognized for each grade band.
Recipients were nominated by their peers and selected using the Tennessee Department of Education's guidelines for Teacher of the Year.
The district-wide winners were:
PreK – 4th Grade
Jill Wise
3rd-grade teacher
Mooreland Heights Elementary
5th – 8th Grade
David Gornto
6th-grade science teacher
Holston Middle
9th – 12th Grade
Rebecca Nutter
Social studies teacher
Bearden High
List of all winners
Region One
A. L. Lotts Elementary
Darby Allen
Allyson Hughes
Bearden Elementary
Beth Brewington
Blue Grass Elementary
Kelly Baker
Farragut Primary
Jessica Burkhart
Ruth Granroth
Lana Hsieh
Farragut Intermediate
Jamey Evans
Parker Miles
Ann Riddell
Northshore Elementary
Jessie Anne Compton
Kaci Hipsher
April Tomberlin
Pond Gap Elementary
Margaret Gray Kramer
Rocky Hill Elementary
Katie Groves
Rachel Harpole
Sequoyah Elementary
Monique Swafford
West Hills Elementary
William Bennett
Tammy Countiss
West View Elementary
Wendy Markwood
Bearden Middle
Emily Butterfield
Sade Rakestraw
Jeremy Troyer
Lauren Waldron
Farragut Middle
Courtney Bugica
Angela Duncan
Kimberly Mink
Rochelle Ramos
West Valley Middle
Christine Dawson
Amanda Varnes
Antoinette Williams
Bearden High
Jami Aylor
Lauren Migun
Rebecca Nutter
McKenze Schlosser
Martin Sierocinski Jr.
Farragut High
Erin Ashe
Al Fontenot III
Kelly Gruhn
Christopher McNeer
Taylor Watson
Rebecca Whitehead
West High
Riley Beck
Florence Fillers
Gina Hodges
Hannah Johnson
Nat Scott
Region Two
Amherst Elementary
Mariah Danzey
Alicia Deal
Ball Camp Elementary
LaRhonda Forsyth
Cedar Bluff Elementary
Natalie Cannon
Angela Childers
Kelly Coffey
Kelly Schippers
Hardin Valley Elementary
Sandra Guinn
Beth Johnson
Catherine Maestri
Karns Elementary
Nova Grove
Rosemary Newport
Carly Norman
Brooke Tucker
Norwood Elementary
Candice Clark
Vicki James
Pleasant Ridge Elementary
Hannah Gump
Powell Elementary
Sara Burditt
Dee Dee McGill
West Haven Elementary
Tish Welles
Cedar Bluff Middle
Dave Gorman
Lindsay Lewis
Hardin Valley Middle
Jessica Fielden
Angela Stokes
Mason Thornton
Karns Middle
Austin Bilbrey
Erin Bray
Rebecca Layton
Northwest Middle
Amelia Crotzer
Nicole Duke
Katie Erb
Paris Hoover
Powell Middle
Mehgan Fiorella
Philip Pardue
Jeremiah Sutton
Ridgedale School
Nicole Clack
Rebekah Sims Graham
Hardin Valley Academy
Brooke Bianchi-Pennington
Melissa Chambers
Charley Cook
Staci Parvin
Travis Quick
Maddie Warren
Karns High
Phillip Beeler
Anne Cook
Clayton Kennedy
Paula Kenney
Jacob Neblett
Powell High
Mary Lynn Berry
Rick Cathey
Hillary Limback
Chris Milligan
Region Three
Bonny Kate Elementary
Maranda Goddard
Carter Elementary
Emily Pannier
Amy Wilburn
Chilhowee Intermediate
Joanna Smith
Dogwood Elementary
Whitney Kee
Nathalie Murphy
East Knox Elementary
Kaitlan Brown
Gary Meade
Gap Creek Elementary
Jeff Johnson
Mooreland Heights Elementary
Jill Wise
Mount Olive Elementary
Sandy Hale
New Hopewell Elementary
Leah Preston
South Knoxville Elementary
Susan Parker
Sunnyview Primary
Jade Ewoldt
Carter Middle
Jason France
Tessa Hartness
South-Doyle Middle
Devyn Georgopoulos
Tonia Johnson
Jeremy Lorenz
Career Magnet Academy
Jill Shinlever
Carter High
David Collins
Marcia Fawver
Heather Wade
L&N Stem Academy
Karen Stanish
Kelley Volunteer Academy
Beth Sewell
South-Doyle High
Chris Davis
William Ehrenclou
Laurenda Hanks
Region Four
Adrian Burnett Elementary
Blake Byrd
Kenny Lewis
Brickey-McCloud Elementary
Brittney Barnett
Chelsie Lethgo
Megan Smits
Copper Ridge Elementary
Bonnie Bentley
Corryton Elementary
Melissa Biggs
Fort Sanders Education Center
Rachel Simmons
Fountain City Elementary
Jenny Kelly
Gibbs Elementary
Shannon Chancey
Michelle Nantz
Halls Elementary
Michael Blair
Megan Sarr
Inskip Elementary
Kristi Hall
Sherri Waller
Ritta Elementary
Stephanie Cook
Ryan Ibbotson
Shannondale Elementary
Bethany Williams
Sterchi Elementary
Amanda Carlton
Gibbs Middle
Lynn Berney
Lisa Ogle
Gresham Middle
Chris Barkley
Jennifer Caldwell
Cricket Prentiss
Halls Middle
Caleb Horner
Avery Padgett
Nathan Sherrod
K.A.E.C.
Jordyn Black
Central High
Rich Morgan
Ryan Roach
Sarah Toll
John Valentine
Gibbs High
Todd Atkins
Jami Cherry
Carol Mitchell
Halls High
Steve Absher
Jeffrey Sharp
Emily Wright
Richard Yoakley School
Vivat Bangura-Shanks
Jesse Horton
Region Five
Belle Morris Elementary
Ashley Swaney
Beaumont Magnet
Belinda Holdernesse
Jolena Taylor
Christenberry Elementary
Heidi Knapczyk-Walsh
Anna Schnuck
Fair Garden Family Center
Pamela Hall
Green Magnet Academy
Jake Albright
Lonsdale Elementary
Claudia Abbott
Jennifer Zwakenberg
Maynard Elementary
Anitra Selmon
Sarah Moore Greene Magnet Academy
Danielle Beal
Johneshia Edwards
Traycee Maynard
Spring Hill Elementary
Janee' Gordon
Laura Parkhill
KCS Virtual Elementary
Shelley Hill
Holston Middle
Joshua Brink
David Gornto
Vine Middle
Jana Cartee
Traci Maupin
Whittle Springs Middle
Jennifer Gore
Jamie Stapleton
Allison Watson
KCS Virtual Middle
Lynn Shuryam
Austin-East High
Ariel Hall
Izumi Murgolo
Jenna Watson
Fulton High
April Brooks
Shawn Callen
David Miller
Tiffany Nelson
KCS Virtual High
Emily Williams