How to Create a MyACT Account for State Testing
How to Create a MyACT Account for State Testing
Start Here: Watch the 5 minute video on how to create your MyACT Account. This is VERY helpful. Watching the video will save you some stress.
If you already have a MyACT Account, the video instructs you on how to link it to your ACT Student Code.
Click Below to watch the Video
MyACT How to Use Your Student Code for State & District Testing (Links to an external site.)
Here also is a link to the MyACT Quick Start Guide (Links to an external site.) for your reference.
Items Needed to Complete MyACT
Non-Test Instructions for Students


This form has instructions and a Unique Student Code Assigned to you by ACT.
Tip: Take a Picture of the upper right-hand corner with your unique student code or write it down. This way you will have your student code if you misplace your paper.
How do I get my code?

Your specific form will be passed out during 30 in 3rd for In-Person Students before the In School State ACT.

Taking the ACT Booklet

Online Version can be found HERE.
Also passed out with your Non-Test Instructions Sheet

Access to your grades in ASPEN

Student Account Users

Click on the My Info Tab
Click on the Transcript side tab. To view prior year's grades, change the filter at the top from Current Year to All Records.


Bearden High School ACT Code: 431-090
You are now ready to create or migrate your MyACT Account.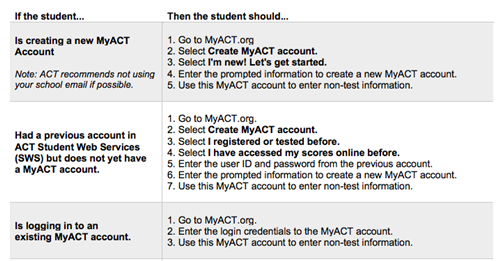 Don't forget to find this on your MyACT account and connect the State ACT test to your Account. Look for this on your screen.