With the help of our
FCE families,
we have earned
$564.00
from Box Tops!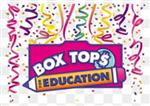 Congratulations to our
Spring Box Top
Challenge Winners!
Box Tops Grand Champion
Ms. Vess' class ~ 1st Grade
Kindergarten ~ Ms. Merryman's class
2nd grade ~ Ms. Pratt's class
3rd grade ~ Ms. Buchanan's class
4th grade ~ Ms. Craig's class
5th grade ~ Ms. Alexander's class
Thank you, FCE families!
for your continued support.
Please continue clipping, collecting,
and sending in Box Tops!
---