Our total earnng for
this year is currently
$135.00
in Box Tops Rewards!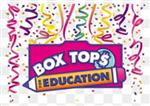 Congratulations to our
Fall Box Top
Challenge Winners!
Box Tops Grand Champion
Ms. Vess' class ~ 1st Grade
Kindergarten ~ Ms. Rainey's class
2nd grade ~ Ms. Howle's class
3rd grade ~ Ms. Moore's class
4th grade ~ Ms. Branam's class
5th grade ~ Ms. Driskell's class
Thank you, FCE families!
for your continued support.
Please continue clipping, collecting,
and sending in Box Tops for our
Spring Grade Level Challenge!
---