Vine Middle Magnet School is Knox County Schools' only middle school magnet program and affords students the opportunity to experience the middle school curriculum through the lens of science, technology, engineering, arts, and math (STEAM); a focus that challenges students to become innovators and collaborators who are preparing for 21st Century careers. Vine is renowned for its performing and visual arts department and offers students unique courses of study in Modern and West African Dance, as well as West African Drums. Whether students are continuing their educational journeys from one of KCS's three magnet elementary schools or wishing to enter the KCS magnet pipeline for the first time, Vine Middle Magnet School will prepare them for a bright future in high school and beyond.
Science

&

Technology

, interpreted through

Engineering

and the

Arts

, all based in

Mathematical

elements

.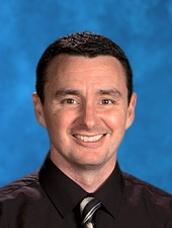 Phone: 865-594-4461
Email:
Degrees and Certifications:
Dr.

Rich McKinney, Magnet Facilitator

Vine Middle Magnet School offers a variety of programs that prepare students for the critical thinking and problem solving that will be required in future careers. We accomplish this by integrating STEAM concepts across the various content areas. If you would like to learn more about what Vine has to offer, please contact me to set up a tour of our school.