Call out message on Nov 19/20:
Parents and students,
This is Tim Berry with an important update around last weeks safety concerns. The Knox County Sheriff's Department is still investigating the threat that was made and while I cannot share information at this time, I feel comfortable that we are not dealing with a credible threat. Of course, until the suspect is identified and apprehended, I will continue to treat the situation as a high priority and do everything within my power to have a strong presence of law enforcement and follow safety protocol to protect our students. As I have stated multiple times, no student was ever injured or even in harms way from last week's threat and I discourage you from reading social media from sources other than myself and consider it reliable information. We have conducted weapon searches of varying levels each morning as a precautionary measure and are likely to continue this until our suspect is identified and prosecuted. Unrelated, we also conducted a drug search today as the Knox County Sheriff Department's Canine Unit offered us the resources. We did go into a medium lockdown, which restricted students to the classroom only and instruction continued. Students were told on the front end this was a non-emergency lockdown. The search began at approximately 9:10 and continued until 10:35, resulting in zero finds or arrests.
I know these kinds of drills and procedures make some parents and students nervous, but given the horrifying events that have happened in schools throughout the country, I want to make sure everyone understands we take safety very seriously and will put the safety and security of your children first. Thanks again to all who have reached out through email, text, calls and social media, expressing your appreciation for these extra efforts!
Social Media Post from Nov 14:
Dear South-Doyle High families,
The purpose of this post is to let you know that we were made aware of a potentially threatening message found in a school bathroom this afternoon. The Knox County Sheriff's Office and school security were notified immediately and are currently investigating. Because this is still under investigation, I cannot share details, but I can say there is a lot of very serious misinformation and false reports circulating social media, so please exercise caution in what you read or re-post as fact. Absolutely no one has been physically harmed or was the safety of our students compromised. We will have an increased officer presence on campus in the morning as a precaution. We understand you may have concerns, but please know we take these situations very seriously and will always do everything we can to ensure the safety of your children and productive school day. I assure you this social media post is accurate and worthy of sharing with friends and family. I look forward to seeing everyone at school tomorrow. Thanks and have a great evening!
---

We Are "South-Doyle"

---
Keep up with the latest updates by following

Mr. Berry on twitter @SDCherokee
---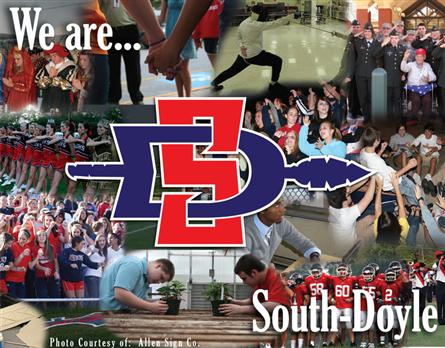 KCS announces South-Doyle High a Winner of School Technology Challenge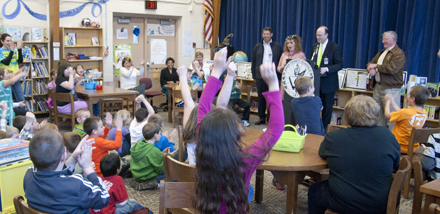 Dr. Jim McIntyre, Superintendent of the Knox County Schools, recently announced the winning schools of the School Technology Challenge, which is an internal competition for selected schools to begin a 1:1 technology effort (one technology device for each one student, and each one teacher). Interested schools went through an application process, and a total of 28 schools applied for consideration in this pilot initiative.
"We believe selecting a small, representative sample of schools to embrace instructional technology will leverage the creativity and expertise within our schools, build capacity for future expansion, and demonstrate success in schools across our community," McIntyre said. "With this initiative, parents, teachers, stakeholders and taxpayers will be able to see how instructional technology is enhancing education right in their own neighborhood."

@SOUTHDOYLEHS
South-Doyle High School Strategic Goals
Urgently Continue the Pursuit of Excellence for All Students
Focus on the Learning Environment
Develop Excellent Educators through Focused Professional Growth
Increase Community Engagement
2020 Tipton Station Road
Knoxville, TN 37920
Young Campus:
Records Requests Fax: 865-579-8281