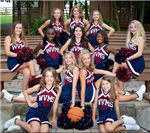 West Valley Middle School Cheerleading Tryouts
Parent meeting is required for tryouts, no exceptions!
Parent meeting February 11, 4:00-6:00 PM
You must attend ALL Clinic Days to be eligible for Tryout Day.
Clinic Days: February 20 and February 21 4:00-6:00 PM
Tryout Day: February 22, 4:00-8:00 PM
Contact Mrs. Skarren, cheer coach for more information.
mindy.skarren@knoxschools.org