Summer Learning Opportunity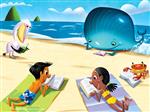 We hope you enjoy your summer and that you know we will miss seeing all of our students over the break. Students - please remember to continue reading and growing your brain while you're away! Students who complete the Summer Learning Opportunity and turn it into their new teacher during the first week of school will earn a popsicle party and extra Beaumont Bucks!
Students received a copy of the packet during the last week of school. If it's gone missing you can download and print a copy here!
Rising Kindergarten, First and Second graders.
Rising Third, Fourth and Fifth graders.
Have a wonderful, safe, restful and adventurous summer!
Love, Beaumont Staff
---