Wear Blue for Diabetes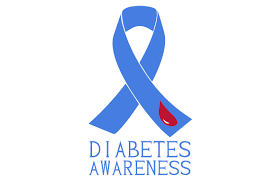 On Friday November 22, 2019, wear BLUE in support of Diabetes Awareness Month.
Did you know?
-As many as 1.3 million Americans have Type 1 Diabetes.
- There are 27 million cases of Type 2 Diabetes.
- 167,000 children have Type 1 Diabetes in the US
-Each year about 80 people per day are diagnosed with Type 1 Diabetes.
-The rate of Type 1 Diabetes in children increases by 3 percent annually worldwide.
Juvenile Diabetes occurs when the Pancreas fails to produce insulin resulting in very high blood sugars.
Diabetes is a very serious disease that can result in death if not treated with insulin, diet, and very close monitoring several times a day. Symptoms can include excessive thirst, vomiting, dizziness, increased need to use the bathroom, confusion, shakiness, mood changes, etc.
AL Lotts has students with Type 1 Diabetes and they are closely monitored at school and at home every single day. Diabetes is not contagious and children with diabetes can do everything everyone else can do as long as they are following doctor's orders.
There is another type of Diabetes called Type 2 that adults and teens may get. Their pancreas produces insulin, but their cells do not respond to it. This also requires medication and dietary changes.
There is no cure for Diabetes, but one day we hope the scientists will help find a cure and better ways to treat this disease.
Let's support our Diabetic Students by wearing BLUE on 11/22/2019. Together we can show our love to those suffering from this Disease.
Wear Blue for Diabetes 11/22/2019!