Welcome to the Gresham Middle School Band! Watch this site for important news, events, and updates on Fountain City's Own Gladiator Band!

About our Band Ensembles:

Wind Ensemble or "Honors Band" is an audition-only group for 7th and 8th Graders. It is the only instrumental class for these grades that meets every day. Wind Ensemble students typically participate in clinics and festivals and take private lessons. Wind Ensemble will perform multiple times both on and off campus and will typically play more advanced literature than regular 7th and 8th grade band classes. Instrumentation for Wind Ensemble includes Flute, Oboe, Bassoon, Clarinet, Bass Clarinet, Alto Sax, Tenor Sax, Bari Sax, French Horn, Trumpet, Trombone, Euphonium, Tuba, Electric Bass, Electric Guitar, Piano, Violin, Viola, Cello, String Bass, Drum Set, Mallet Percussion, and Concert Percussion.

Jazz Ensemble is a group within the first period 7/8 Wind Ensemble. We perform full-band arrangements of standard jazz ensemble charts. In addition to traditional concert band and orchestra instruments Jazz Ensemble also has electric bass, piano, guitar, and drum set. Jazz Ensemble is tentatively scheduled to perform at the UT Jazz Festival this year.

Guitar Club is an after-school group devoted to learning and playing the acoustic guitar. This year Guitar Club will meet on Thursday afternoons after school.

8th Grade Band meets on alternating days during the school year and will play two concerts, one in the fall and one in the spring.

7th Grade Band meets on alternating days during the school year and will play two concerts, one in the fall and one in the spring. Students in 7th Grade Band continue on the four first instruments and in order to create a more full band instrumentation we will add double reed instruments, French Horn, saxophones, euphonium, tuba, electric bass, and percussion.

6th Grade Beginning Band meets every day and will work with Dr. Greene and Mr. Mink from Central High School Band. Students start out on flute, clarinet, trumpet, and trombone. Beginning Band plays two concerts during the year, one in the fall and one in the spring.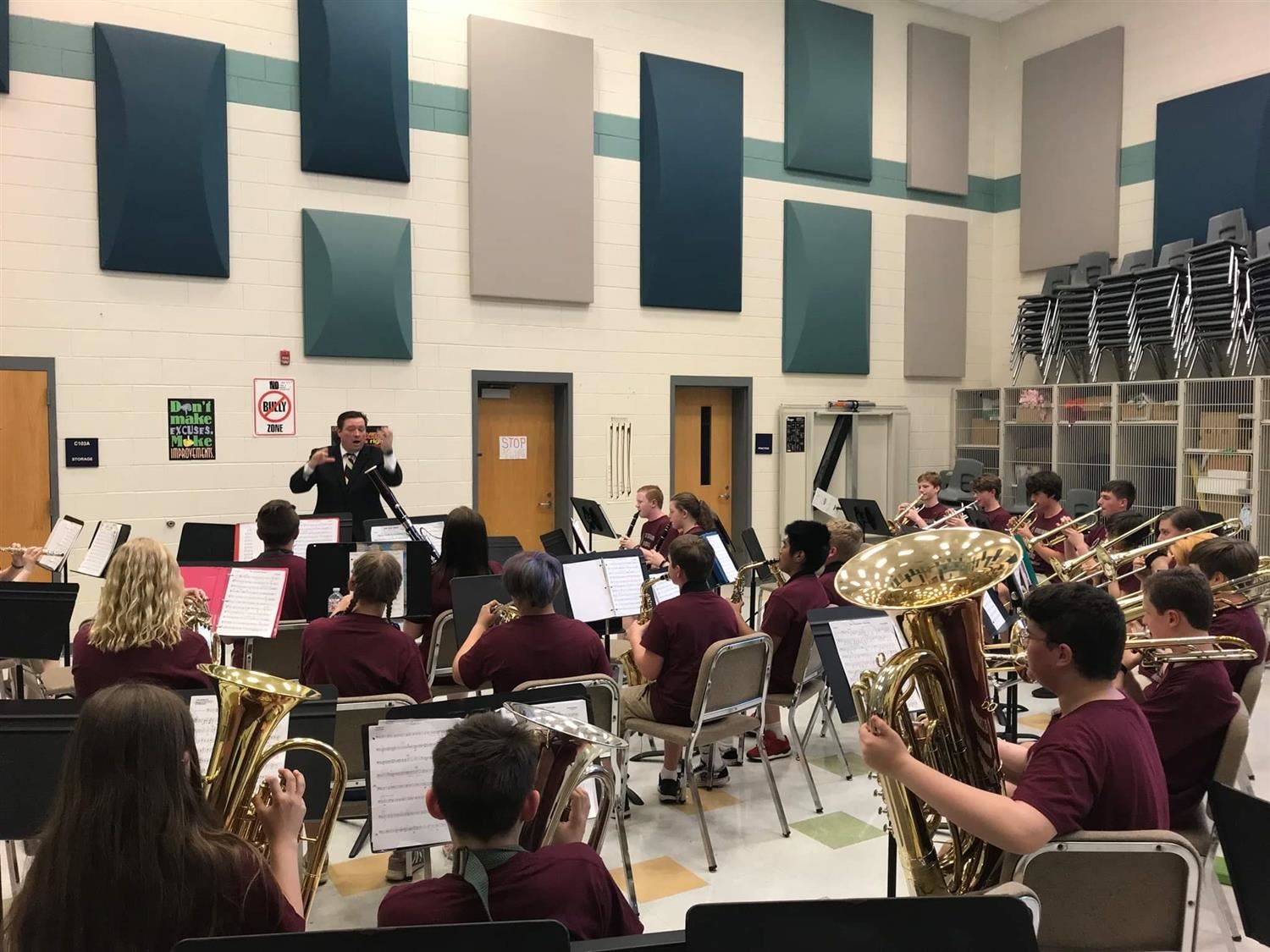 Phone:
Email:
Degrees and Certifications:
Dr.

Sean Greene

About our teacher: Dr. Sean Greene is the Director of Bands at Gresham Middle School and directs the Jazz Ensemble at Central High School. A native of Oak Ridge, Tennessee, Dr. Greene started his teaching career in 1999 at the Coalfield School in Morgan County. Before taking over the band program at Gresham, Dr. Greene taught at Robertsville Middle School in Oak Ridge, Carson-Newman University, Lincoln Memorial University, The University of the Cumberlands in Williamsburg, Kentucky, and Luther College in Decorah, Iowa.

Dr. Greene is an active clinician and adjudicator and has worked with students in the Carson-Newman Summer Music Camp, ETSBOA Jazz, Junior and Senior Band Clinics, TSSBDA Junior and Senior Band Clinics, TSSBDA Concert Performance Assessment, UW-Madison Summer Music Clinic, Knox County Honors Bands, and Knox County Jazz Clinic. He has also done numerous clinics for Eastman Winds musical instruments in Pomona, California.

As a performer, Sean has played tuba, trombone, bass, and guitar countless ensembles, including the U.S. Tour of "Chicago, the Musical", Ricky Skaggs and Kentucky Thunder, Ray Charles, The Big Orange Banditos, Ensemble Swing Time, Tom Wopat, The Oshkosh Symphony Orchestra, The Brad Carman Trio, the Orquesta Sinfonica UANL in Monterrey, Mexico, and the Knoxville Symphony Orchestra. Dr. Greene has soloed with the Orange County, CA Symphony, The Oak Ridge Community Band, the Southern Stars Symphonic Brass Band, and Knoxville Chamber Orchestra, to name a few. In 2008, Dr. Greene was awarded a brass quintet fellowship to attend the Yale University Summer School of Music/Norfolk Chamber Festival in Norfolk, CT.

Sean earned the Doctor of Musical Arts and Master of Music degrees from the University of Wisconsin-Madison School of Music with concentrations in Music Performance and Jazz Studies. He earned the Bachelor of Music degree from the University of Tennessee-Knoxville where he played in the famous Pride of the Southland Marching Band, Symphony Orchestra, Wind Ensemble, Jazz Big Band and Brass Ensemble. Dr. Greene's doctoral dissertation is a collection of duets, trios, and quartets in the jazz style with play-along recordings created with the intermediate level musician in mind.

Dr. Greene is an artist/clinician for Eastman Winds in Pomona, California. He lives in Fountain City with his wife and their two daughters.