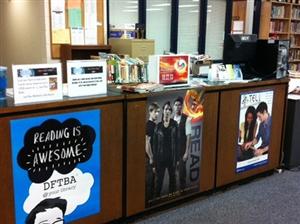 Need help with that research project? Want to find a new read? Need computer access? Have a question about your Works Cited page? Your Admiral Library is your one stop shop for all of your information needs. We hope to see you in the library soon!
Library Media Services Department Mission
Library Media Specialists work collaboratively with students, teachers, administrators, and the larger community to meet the personal and academic needs of each learner as he or she strives to make sense of the world.
Library Hours

Your Library Media Center is open from 7:30 a.m.-4:00 p.m., Monday through Friday. Students are welcome to gather and work in the library before school beginning at 7:30, during lunch, and after school until 4:00 p.m. During instructional time, students may work in the library with a note from their teacher. When tutoring is in session, students may work in the library until 5:45 p.m.
Students may check out as many books as they like! Most books have a circulation period of two weeks. Reference books may be checked out overnight. Magazines may also be checked out overnight, and National Geographics are available for a two week checkout period. All books, including reference books, can be renewed if students need the books for a longer period of time.
Your FHS Librarians
holly.matthews@knoxschools.org
Miss Matthews is excited to be returning as your FHS Librarian for a second year. She will be happy to assist you with your research as well as help you find a book to read. Miss Matthews enjoys reading historical fiction, dystopian fiction, and non-fiction and biographies from the Renaissance period. She looks forward to seeing you in the library!
Mr. Christopher Mitchell
christopher.mitchell@knoxschools.org
Mr. Mitchell is new to the FHS Library. He enjoys teaching research skills, learning about and sharing technology tools, and great books. He reads literary nonfiction, 20th century American literature, and an occasional music biography. Drop by and say hello.
Library Phone: (865) 671-7134