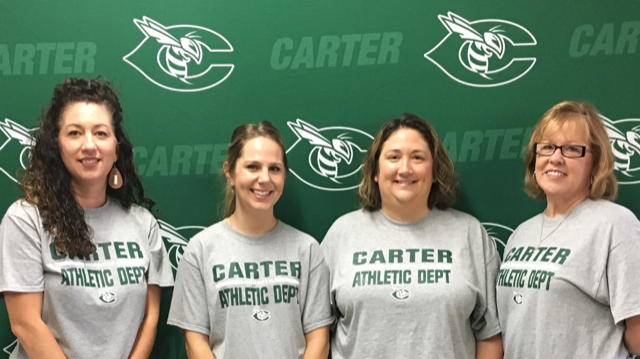 Welcome to the Carter High School Counseling Page!

We're Glad You're Here!!

Need to send school records or transcripts via fax machine?

Please use 865-932-8108 for the counseling office fax machine.
Counseling Announcements
ORDER A TRANSCRIPT

Carter High School has gone electronic when ordering transcripts. Please follow this link for more information.

SUICIDE AWARENESS!
Suicide Awareness is crucial and it starts now. Youth suicide is the 2nd leading cause of young people ages 10-24. Would you know how to help a friend that is contemplating suicide? The Jason Foundation has given us materials to help educate you on this serious issue. Stop by the counseling office and grab your B1 card for the free app.
If you know someone who is contemplating hurting themselves or you are contemplating hurting yourself please let your counselor know immediately.
Files & Resources
Need some help writing your college essay or personal statement?? Look through the brief PowerPoint for some helpful tips, including:
· Some Don't's e.g. "My name is _____ and I go to Carter…"
· A couple of sample essays
· Tips on how to express your individuality
· Inspiration to get started!
Remember, your essay is one of the elements of your application over which you have full control! It's also your opportunity to express who you are and what you can offer potential institutions. Make it count!
Carter Counselors
Welcome to the 2019-2020 school year at Carter High School! With a new year comes some changes in the counseling department. In order to serve our students more effectively with limited resources, we have decided to divide all grade levels by last name among the three of us. This way, we will be able to start with our group from 9th grade and follow them all the way to graduation. This will also allow parents who have multiple children at the school to communicate and build a relationship with one counselor as opposed to always having to figure out which one of us to ask for help. Please be patient with us as this is a major change and will take some time for everyone to acclimate. In the long run, we know it is in the best interest of our students to make this change.


| | |
| --- | --- |
| Counselor's Name | 9-12 Portion of the Alphabet |
| Jessie Bell | A-G |
| Beth Brown | H-O |
| Nicole Hooper | P-Z |
| Pam Clift | Counseling Office / Attendance Office |

CONTACT INFORMATION

Jessie Bell (A-G)
jessie.bell@knoxschools.org
(865) 933-3434 ext. 72012

Beth Brown (H-O)
beth.brown@knoxschools.org
(865) 933-3434 ext. 72019

Nicole Hooper (P-Z)
nicole.hooper@knoxschools.org
(865) 933-3434 ext. 72032
Join Remind
We encourage parents/students to sign up with remind.com. This is a great wasy to stay infomed about upcoming events and deadlines.

Class of 2020 text this message @82gf42 to 81010

Underclass Students text this message @hh66cdk to 81010
CHS Counseling Twitter
Please follow us on twitter: @cartercounselor
Need a Teacher Reference?
If you need a teacher/counselor reference letter, please complete this "Brag Sheet" and give it to the teacher/counselor at least two weeks before you need the letter.