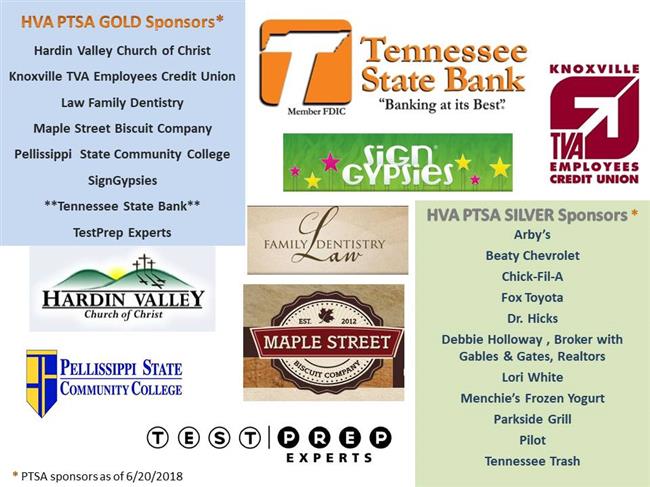 ---

Welcome to the Hardin Valley Academy PTSA webpage!
---

The Hardin Valley Academy PTSA will work to support and speak on behalf of students, teachers, and school staff in the community and before governmental agencies and other organizations that make decisions affecting them; will work to assist parents in developing the skills they need to raise and protect their children; and will work to encourage parent and public involvement in the public schools of this community, state, and nation.

Your membership supports teacher luncheons and staff appreciation events, student awards (Gold and Silver cards, special contest prizes), senior scholarships, special programs, Graduation Celebration activities, landscaping improvements, and more!

If you haven't joined PTSA, we would love to have you! We have student and staff memberships for only $5, parent mem

berships for $8, family memberships for $30, and corporate memberships for $50. Don't miss out on the great incentives coupons that were generously donated by our membership sponsors Chick-fil-A, Stefanos Pizza, and Texas Roadhouse! Click on the following link to download a membership form and simply fill it out, attach your payment and send it in to your student's advisory teacher. https://drive.google.com/…/1E79Icx25w3RYnhx046PH7vsxJ…/view…

Follow us on Instagram: @hvaptsa

---
---

---

---

ANNOUNCEMENTS

Thank you to our amazing volunteers who helped put on this awesome event for the Junior Class on Friday, April 6th. A big thank you to all of our corporate sponsors who made this event possible. This event was an eye opening experience for the junior class giving them a glimpse of what awaits in the years to come. It opened their eyes to realistic career versus cost of living, salary, expenses, and the cost of things they probably take for granted.

---

The Foundation and Journalism classes would like to thank The Preserve at Hardin Valley and SouthEast Bank - Hardin Valley Branch for donating two iPads and cases for use by the HVA Journalism students! The iPads make it easier for introductory journalism students to practice their photography and videography skills while having access to the needed editing applications, as well as practicing interviewing skills on camera and completing research for stories on-the-go. Thank you to these two generous local businesses!

---

Class of 2018: Families and friends are cordially invited to a Baccalaureate Service honoring the Senior Class of Hardin Valley Academy on Sunday, May 6th at 4:00 pm. The ceremony will be held at Cokesbury United Methodist Church, 9919 Kingston Pike. A simple reception will immediately follow the service. Graduation Dress and Cap & Gown are required for participating seniors.

---

Our PTSA is excited to announce that this year's Grad Night Celebration will be held at Main Event Entertainment. Grad Night is a unique and spectacular all-night celebration for Hardin Valley Academy's 2018 graduates. There will be plenty of food, games, entertainment and prizes! This alcohol and drug free event sponsored by the PTSA promises to be a fun, safe, and memorable celebration. It will start at approximately 11:45 pm Wednesday May 16, 2018, right after the HVA Graduation ceremonies. The event lasts all night long until 5:00 am on Thursday May 17, 2018. A

dmission for this event is all-inclusive will be

$55 if purchased in advance by the deadline which is May 1st.

Tickets can be purchased at the door for $75.

This includes food, soda, tea, water, bowling (including shoes), multi-level laser tag, billiards, ropes course, shuffle board, and unlimited play on over 100 video games. Graduates do not need any "spending money" at this event. The registration forms are available in the front office. For more information click on the following link:

Grad Night Information
How to help your school by shopping online through Amazon Smile:
Simply select Hardin Valley Academy PTSA as your Amazon Smile charity and 0.5% of every purchase goes toward your school! This is the easy way to earn money for the HVA PTSA.
How to donate to the PTSA:

Donate now to help support all the projects that the HVA PTSA does for the school and the students. Click on the button below and it will take you directly to PayPal where you can make your secure donation.