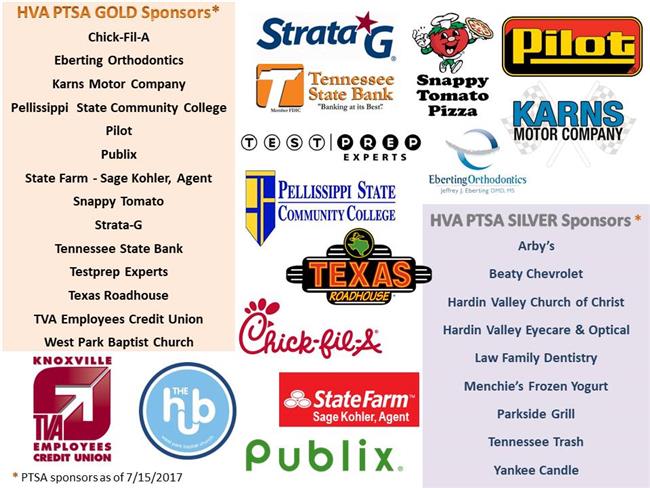 ---

Welcome to the Hardin Valley Academy PTSA webpage!
---

---

ANNOUNCEMENTS

---

---

HVA 10 YEAR CELEBRATION:

On March 24 join fellow HVA alumni, parents, staff, former staff, supporters and community business owners in a night to celebrate Hardin Valley Academy's 10 year anniversary. "Rhapsody in Blue" will be held from 6-10pm at The Venue at Lenoir City. Tickets are $50. For more information and tickets, visit www.Eventbrite.com and search for "Rhapsody in Blue".

To make this event a success, we are in need of sponsors, volunteers and donations for silent auction items. If you can help in any of these areas, please email Kevin Crateau at HVA10Year@gmail.com

We are looking for volunteers to help make HVA's 10 Year Celebration a memorable night. This event will take place on Saturday, March 24th. A lot of effort has been put into making this fun night a success and we can't wait for you to enjoy the night in addition to helping. Click on the following link to sign up: https://m.signupgenius.com/…

If you have any questions, please contact us at HVA10year@gmail.com. Thanks again for supporting our wonderful school and students.

---

GRAD NIGHT CELEBRATION: Our PTSA is proud to sponsor Grad Night for our 2018 Seniors. Grad Night is a unique and spectacular all-night celebration for Hardin Valley Academy's 2018 graduates. There will be plenty of food, games, entertainment and prizes! This alcohol and drug free event sponsored by the PTSA promises to be a fun, safe, and memorable celebration. Grad Night will be held at The Main Event. It will start at approximately 11:45 pm Wednesday May 16, 2018, right after the HVA Graduation ceremonies. The event lasts all night long until 5:00 am on Thursday May 17, 2018. Admission for this event is all-inclusive and will range from $45 - $55 depending on what package the senior class chooses. This includes food, soda, tea, water, bowling (including shoes), multi-level laser tag, billiards, ropes course, shuffle board, and unlimited play on over 100 video games. Graduates do not need any "spending money" at this event. For more information click on the following link: 2018 Grad Night Celebration Information

To put on this important event, we hold fundraisers, ask for parent donations, and depend on the generosity of our business community and elected officials. We want to give you the opportunity to participate. Becoming a sponsor of this event is an excellent way to show your support of our Hardin Valley families. More importantly, you're helping to ensure that our community's young graduates have a safe and memorable evening. Click on the following link to get more information about our sponsorship levels: 2018 Grad Night Sponsor Information

---

Save the date!
My Amazing Life: Junior class exclusive
Life size Game of Life event
April 6, 2018 (all day)
Volunteer, Sponsors and for more information:
Cyndi Smith
PTSA 3VP/My Amazing Life Chair
Cyndissmith@gmail.com

---

Each year the HVA PTSA awards scholarships to seniors at the Senior Awards Ceremony. The funds raised by your HVA PTSA and the donations you make help support our faculty and students. HVA PTSA Scholarship Applications are available at the Guidance Office or by clicking on the following link: PTSA 2018 Scholarship . Seniors with a 3.0 can apply and the application deadline is March 7th. We will be giving 3 scholarships worth a total of $5,000. Contact Christy McCord at ctmccord@tds.net with any questions.
How to help your school by shopping online through Amazon Smile:
Simply select Hardin Valley Academy PTSA as your Amazon Smile charity and 0.5% of every purchase goes toward your school! This is the easy way to earn money for the HVA PTSA.
How to donate to the PTSA:

Donate now to help support all the projects that the HVA PTSA does for the school and the students. Click on the button below and it will take you directly to PayPal where you can make your secure donation.
---

The Hardin Valley Academy PTSA will work to support and speak on behalf of students, teachers, and school staff in the community and before governmental agencies and other organizations that make decisions affecting them; will work to assist parents in developing the skills they need to raise and protect their children; and will work to encourage parent and public involvement in the public schools of this community, state, and nation.

Your membership supports teacher luncheons and staff appreciation events, student awards (Gold and Silver cards, special contest prizes), senior scholarships, special programs, Graduation Celebration activities, landscaping improvements, and more!

---

Membership is only $8.00 per parent, student, or staff with a family membership for $30. Stop by the front office to get an enrollment envelope or contact us at

hvaptsa@gmail.com

with your questions.

---

---