WHAT'S COMING OUR WAY IN PRE-K!!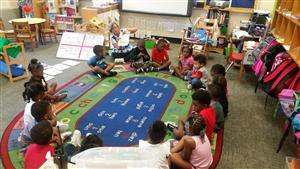 STEPPING UP PROGRAM
Our Stepping Up program will be on May 23rd at 9:00 a.m. at Greater Warner AME Zion Church. This program is our graduation program for our students entering Kindergarten in the Fall of 2018-2019 School Year. We are extremely proud of our students' progress and we know they are well prepared for Kindergarten next year. We want to thank our fabulous teachers and parents for prioritizing our children first!! We love each and every one of our students and we will miss them next school year.
Your child should be no less than 3 years of age (to enroll in our 3 year old classes) or no less than 4 years of age (to enroll in our 4 year old classes) on or before August 15th to be considered for enrollment. You must live in a Title 1 school zone or qualify through the guidelines of our Voluntary PreK Program.
BRING THESE ITEMS TO REGISTRATION
TN Immunization Certificate - original copy obtained from Health Dept. or physician

Current School Physical

Copy of official Birth Certificate with seal (not Mother's copy)

Proof of residence (utility bill, lease, or rental agreement)
Once an applicant has the required information, enrollment in the Title 1 program is 'first come, first served'. Our Voluntary PreK classroom has other requirements. Please click on the link for additional information on our Voluntary PreK Program. Please call the school office if you have any questions.