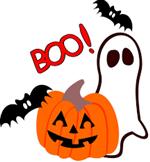 Hall-o-ween is coming to PES and, as a family member of our school, you're invited! School families may don their favorite costume and do some treating (no tricks allowed! :-) up and down the hallways. Take your picture in front of the hay bales, see if you can figure out which favorite character is YOUR teacher, gets lots of candy!!! Lots of enjoy at Hall-O-Ween so be sure to join us!
We also need donations of bags of candy! If you can provide a bag or three, send them in to your child's teacher for distribution.
Thanks and see you on Oct. 28th from 5 till 7 PM. It's gonna be a scream!!!