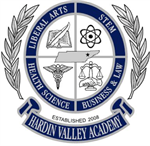 Hardin Valley Academy
8th Grade Night
Tuesday February 23
Parents & Students are both encouraged to attend this important night!
If your last name begins A-L: Meet in auditorium 6:00pm – 6:45pm
If your last name begins M-Z: Meet in auditorium 7:30pm – 8:15pm
**If your child has been recommended for honors classes for next year please attend a meeting in the auditorium from 6:45 – 7:30pm.
**From 6:00pm – 8:00pm there will be opportunities to pick up course registration sheets, buy HVA gear, meet activity and club sponsors, coaches, teachers, and more!
SMALL GROUP MEETINGS WILL BE HELD FOR FOLLOW-UP: (More details will follow)


Farragut MS – March 2
Cedar Bluff MS – March 3 & 4
Karns MS – March 3 @ 6:00pm