The South-Doyle High School 2016-17 yearbook is now on sale!



1) The easiest and quickest way to order a yearbook at any time of day is to go online to www.smart-pay.com (be sure to type in the dash) and locate our school by entering city/state and choose South-Doyle High School.


2) To order by phone, you can call the Smart Pay Call Center at 1-800-853-1337 Monday through Friday during regular business hours.

3) If you would like to order by mail, you will be receiving a letter in the mail the week of October 31.

Don't miss out on this opportunity - there are NO guarantees that extra books will be available when delivery is made next fall. Thank you for helping our school continue this great tradition of preserving lasting memories!



Yearbook ADs for Seniors
---

Forms for Flu Shots

Español
SLVC Formulario de consentimiento
Declaración de información de vacuna
---

PSAT (10th & 11th Graders)


National Merit Scholarship Qualifying Test
Sign up for Test w/ Ms. Barlow or Mr. Bronstein
between September 12th - September 30th.
First Come - First Served - While supplies last.

Test Date: October 19th
Cost $15 (Financial Assistance is available)
Study Guide will be provided!!!


---
ACT Retake Instructions



Parents of Juniors, over the next week we will be speaking personally to students in the 11th grade about an opportunity to raise ACT scores. We will be starting an ACT prep course during the 4th block skinny as our main strategy for accomplishing this in 1 to 2 weeks. We are excited about this program that is proven to raise scores and we wanted to give you a chance to reserve a spot for your son or daughter. They will earn a credit for the course and be better prepared to take the ACT in March. Please contact by email the Junior counselor, Steffany Barlow at steffany.barlow@knoxschools.org or Bill Baldwin at william.baldwin@knoxschools.org the Junior principal this week. We want to serve as many students as we can, but this is a first come first serve opportunity with only 5 classes available.
---
AP Exams
South-Doyle High School will be administering the following AP exams on the dates listed below. The deadline for registering for exams is March 24, 2017. Students wanting to test should contact the school's AP Coordinator at the number below. Homeschooled students and students whose schools do not offer AP can arrange to test by contacting the AP Coordinator by March 15. Students with financial need can contact the AP Coordinator regarding fee reductions.


Monday May 1st
8AM Chemistry


Tuesday May 2
12PM Physics 1: Algebra-Based


Wednesday May 3
8AM English Literature and Composition
12PM Physics 2: Algebra-Based


Thursday May 4
8AM United States Government and Politics


Friday May 5
8AM United States History


Monday May 8
8AM Biology
12PM Physics C: Mechanics
2PM Physics C: Electricity and Magnetism


Tuesday May 9
8AM Calculus AB / Calculus BC


Wednesday May 10
8AM English Language and Composition


Thursday May 11
12PM Statistics


Contact: D. Mulholland 865-577-4475 or don.mulholland@knoxschools.org
---
Makeup Work Policy

Food City Bucks
Did you know that Food City gives $600,000 per year to area schools? Link your Valucard, then purchas participating brands in order to support the school of your choice. Click here for more details.


| | |
| --- | --- |
| | South-Doyle High School Newspaper's blog at the following link and take our community survey. |
Keep up with the latest updates by following

Mr. Berry on twitter @SDCherokee
KCS announces South-Doyle High a Winner of School Technology Challenge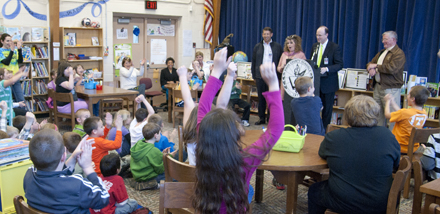 Dr. Jim McIntyre, Superintendent of the Knox County Schools, recently announced the winning schools of the School Technology Challenge, which is an internal competition for selected schools to begin a 1:1 technology effort (one technology device for each one student, and each one teacher). Interested schools went through an application process, and a total of 28 schools applied for consideration in this pilot initiative.
"We believe selecting a small, representative sample of schools to embrace instructional technology will leverage the creativity and expertise within our schools, build capacity for future expansion, and demonstrate success in schools across our community," McIntyre said. "With this initiative, parents, teachers, stakeholders and taxpayers will be able to see how instructional technology is enhancing education right in their own neighborhood."

@SOUTHDOYLEHS
South-Doyle High School Strategic Goals
Urgently Continue the Pursuit of Excellence for All Students
Focus on the Learning Environment
Develop Excellent Educators through Focused Professional Growth
Increase Community Engagement
2020 Tipton Station Road
Knoxville, TN 37920
Young Campus: