Yearbooks
If you purchased a 2015 yearbook they are available for pickup from room 203 before and after school and between classes. Didn't buy one? There are still some of the award winning Cherokee yearbooks available for $80. Please come by room 203 if you want to buy one.

French Trip
Want to see the Eiffel Tower and the Mona Lisa? Swim in the Mediterranean Sea?
There will be a parent and student interest meeting for anyone wanting to travel to France, Monaco, and Italy next summer 2016. The meeting will be Thursday August 27th at 6pm in Madame Wheatley's room on Young Campus room 932. You do not have to be a current French student to go on the trip. All are welcome and space is limited.

FFA
There will be an interest meeting for the South-Doyle FFA Thursday after school at 3:45 in room 601 of E-Building. Anyone, regardless if you are enrolled in an Agriculture class can attend and become a member.


Programming Competition
The CodeTN software code-writing competition kicks off this Saturday, August 29 from 9 a.m. until 2:00 p.m. at Pellissippi State's Hardin Valley Campus. Registration begins at 8:30.
Students and teacher sponsors will have the opportunity to attend important training sessions to prepare for this year's challenge. Lunch will be provided for all participants. And, like last year, there are big prizes for the winning teams and teacher sponsors.
If you would like to join a team to compete at CodeTN please let Mr. Carter know in the helpdesk.


Accafellas Auditions
The Accafellas quartet auditions for Bariton and 1st Tenor wil be held on September 1st after school in the chorus room. See Mr. Maples for audition music and Thomas Bush or Paul Brooks for more details!


GSA Meeting
GSA will have its first meeting September 9th. Come by the library to pick up your packet which is due at the September 9th meeting.


National Honor Society
The first National Honor Society meeting will be held Tuesday, September 1st in the auditorium at 8:10 AM. Please bring service hour sheets for hours completed over the summer and your $10 dues.
| | |
| --- | --- |
| | South-Doyle High School Newspaper's blog at the following link and take our community survey. |
Keep up with the latest updates by following

Mr. Berry on twitter @SDCherokee
KCS announces South-Doyle High a Winner of School Technology Challenge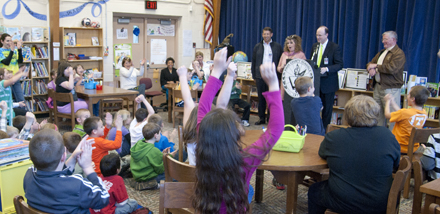 Dr. Jim McIntyre, Superintendent of the Knox County Schools, recently announced the winning schools of the School Technology Challenge, which is an internal competition for selected schools to begin a 1:1 technology effort (one technology device for each one student, and each one teacher). Interested schools went through an application process, and a total of 28 schools applied for consideration in this pilot initiative.
"We believe selecting a small, representative sample of schools to embrace instructional technology will leverage the creativity and expertise within our schools, build capacity for future expansion, and demonstrate success in schools across our community," McIntyre said. "With this initiative, parents, teachers, stakeholders and taxpayers will be able to see how instructional technology is enhancing education right in their own neighborhood."

@SOUTHDOYLEHS
South-Doyle High School Strategic Goals
Urgently Continue the Pursuit of Excellence for All Students
Focus on the Learning Environment
Develop Excellent Educators through Focused Professional Growth
Increase Community Engagement
2020 Tipton Station Road
Knoxville, TN 37920
Young Campus:
email: sdhs@knoxschools.org