In-School Student Shows:
Tuesday, March 10: 7th Grade – 8:45
Wednesday, March 11: Visiting Elementary Schools – 10:00 & 6th Grade – 2:15
Thursday, March 12: 8th Grade – 9:45
Student $2
Community Shows:
Tuesday, March 10: 7:00 pm
Thursday, March 12: 7:00 pm
Adults $5
Children $3
Tickets sold at door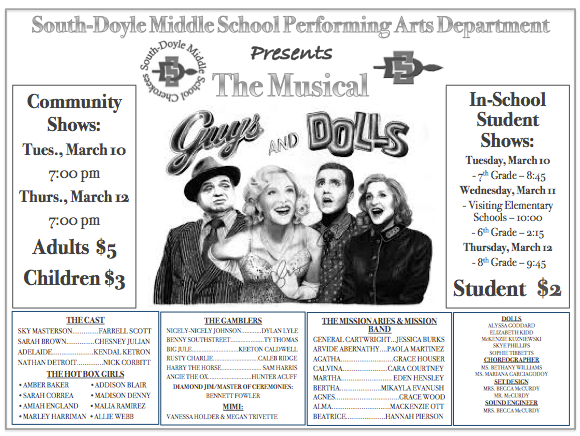 Click to see more information and complete list of cast
---
9th Grade Orientation
for ALL 8th Grade students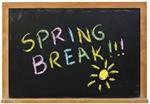 with Austin East and SDHS will be in the library
South-Doyle Middle School students in grades 6-8 will participate in the TCAP Writing Assessment. In this assessment, students are asked to read grade-level complex texts and then write a constructed response essay about those texts. Specifically:
Students will read two texts and write two essays, one that is informational/explanatory about one text and a second that is an argument about both texts.
The structure of the TCAP Writing Assessment is similar to what students experienced last year, which had evolved from previous years to be more like the expected Tennessee Ready ELA assessments in 2015-16. The two texts will include social studies or science topics in order to provide practice with reading informational texts, and student responses are scored against a rubric addressing four components: development, focus/organization, language and conventions.
All students will take the TCAP Writing Assessment online through the Measurement Incorporated Secure Testing (MIST) application, the same one used for the TCAP Writing Assessment last year as well as several online writing activities this year. Although scores are not part of any student's grade, parents will still receive individual results in late spring or early summer.
For more information about the TCAP Writing Assessment, please visit the Tennessee Department of Education's website http://www.state.tn.us/education/assessment/writing_assessment.shtml