July 23rd 8:30 - 12:30
Cherokee Pride Day
Join us as we freshen up the campus prior to the start of school. Bring shovels and other yard tools to help us clean up and beautify our campus. Lunch will be served.
August 2nd 6:30 - 7:30 in the Auditorium
Meet The Principal
New principal Andrew Brown will share his vision for South Doyle Middle School and answer questions. Parents and community members are invited to attend.
August 5th 5:00 - 8:00 at the Football Stadium
Back to School Bash
An annual tradition at South Doyle Middle School! Join us at the football stadium to meet teachers and administrators. This is a great opportunity to sign up for clubs, join PTSA, and get to know the staff at SDMS. Dinner will be provided! Stop by as you are able - no need to stay the entire time.
August 23rd 5:30 - 7:30
Open House
Parents will have an opportunity to meet each of their students' teachers.
---
KCS Staff and Families,
Tennessee's annual
Sales Tax Holiday
is Friday, July 29 through Sunday, July 31. During the three-day tax holiday, shoppers can save nearly 10 percent on clothing, school and art supplies, and computer purchases. The tax-free weekend begins at 12:01 a.m. on Friday, July 29 and ends Sunday, July 31 at 11:59 p.m.. To see the list of school supplies for your student's classroom, please visit your school's website by first going to
knoxschools.org
and using the "Select a School" button at the top of the page. Also, school supply lists are posted on the doors of our schools.
During the designated days, shoppers will not pay state or local sales tax on select clothing with a price of $100 or less per item, school and art supplies with a price of $100 or less per item and computers with a price of $1,500 or less. Click
here
for a list of items that qualify for the tax-free weekend.
A few examples of exempted items include the following:
Clothing: Shirts, dresses, pants, coats, gloves, hats and caps, hosiery, neckties, belts, sneakers, shoes, athletic and non-athletic uniforms, scarves, jackets, jeans, socks and underwear
School supplies: Binders, book bags and backpacks, calculators, tape, chalk, crayons, erasers, folders, glue, pens, pencils, lunch boxes, notebooks, paper, pencils, rulers and scissors
Art supplies: Clay and glazes, paints, paintbrushes, sketch and drawing pads and watercolors
Computers: Computers are defined as central processing units (CPUs) and bundled components including speakers,monitor, keyboard, mouse, cables and basic software
Laptop computers, desktop computers and tablets less than $1,500 each are eligible
Thank you,
Melissa Tindell - Director, Public Affairs
---
South Doyle Middle Summer Office Hours
The South Doyle Middle School Office will be open on
Wednesdays from 9am - 12pm
---
Attention RISING 7th Grade Parents: The State of Tennessee requires 7th grade students to show proof of having received one dose of the Tdap vaccine (tetanus, diptheria, and pertussis) and two doses of the Varicella (chicken pox) vaccine prior to beginning 7th grade. If you have any questions regarding this policy, please contact Nruse Hicks in the clinic at (865) 579-2135.
Please click here for a letter from our School Nurse regarding clinic procedures and medical policies!
---
Numbers are based on most recent projections and are subject to change
---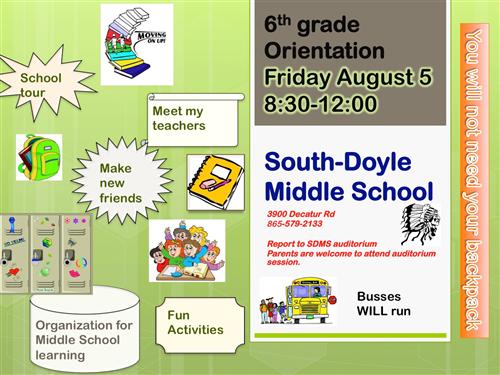 ---