We Did It!
With your help we have
raised $570.00 in
Box Tops Rewards this year!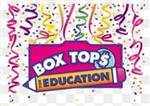 Congratulations to our Winners!
1st grade ~ Ms. Williams' class
2nd grade ~ Ms. Lay's class
3rd grade ~ Ms. Sakhleh's class
4th grade ~ Ms. Branam's class
5th grade ~ Ms. Keliikoa's class
&
GRAND CHAMPION:
Kindergarten ~ Ms. Merryman's class
Please continue collecting Box Tops!
FCE PTO will host a
Spring Box Tops Challenge, and
classes can again compete for the
trophies and bragging rights!
---