It's Coupon Book Time!
September 8th -27th
~ Our Goal: 1,500 books ~
Books sold as of 09.23.16:
1,188!
Photos from last year's celebrations:


For selling 250 coupon books:
Ms. Holt and Ms. Rupeka danced for us!
For selling 500 books,
top sellers 'silly stringed'
Ms. Holt, Ms. Rupeka, and Ms. Scott.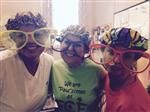 Human ice cream sundaes
for selling 1,000 books!
---