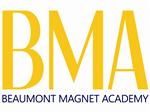 Beaumont Magnet Academy is committed to the academic, creative, and emotional needs of our students and will promote learning, leadership, and pride in a unique liberal arts environment.
All students at Beaumont participate in the Fine Arts Magnet Program focusing on enriching curriculum in instrumental music, vocal music, the visual arts, physical education, and dance education. Several exciting after school enrichment opportunities involving the arts are also available.
Beaumont is also proud to be Knoxville's first and only museum school! We partner with 7 area museums to create unique learning expeditions and museum experiences that integrate with and enrich the Knox County curriculum.
Beaumont Magnet Academy is the only elementary school in Knox County featuring an Honors Program for kindergarten through fifth grade. Students fulfilling the academic entrance requirement are placed in an Honors classroom and should expect an increased level of rigor in all core subject areas. Students focus on problem solving, dynamic discussions, and project based learning all presented in a student friendly way.