OUR BLACK
HISTORY MONTH CELEBRATION WILL NOW BE ON MARCH 6TH!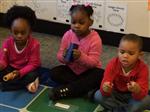 During the month of February, we have recognized African American men and women who have contributed to the success of our country. We've had guest readers like Sterling 'Sterl the Pearl' Hinton, Carmelita Perry and Charles Brown read to our students. At the climax of our celebration, we would like for you to join us for our Black History Program on Friday, March 6th at 9:30 a.m. There will be lots of singing, dancing, and other performances to enjoy on this day. We look forward to seeing you there!
RE -ENROLLMENT FOR OUR THREE YEAR OLD STUDENTS
If you plan to re-enroll your child for our 4-year old classes, you must submit re-enrollment papers. Each family of our 3-year old students will receive a packet filled with necessary forms for re-enrollment.
Please note that your child can not re-enroll without proof of residence. You will need to bring a copy of your most recent KUB bill in your name. If you do not have a bill in your name, you will need to bring a notarized statement from the homeowners that you and your child live with and a copy of their recent KUB bill.
All forms must be turned in by Friday, March 6, 2015.
GENERAL ENROLLMENT INFORMATION
If you are interested in enrolling your child in a Title I PreK program and you live in a Title I School Zone, you must first fill out a Contact form. You can go to either Fair Garden PreK or Sam E. Hill PreK to fill out the form. You could also click on this link to download your own copy of the
Title 1 PreK Contact Form
. Bring the completed form to either schools. When availability arises, you will be contacted by the school's Social Worker.