TOYOTA OF KNOXVILLE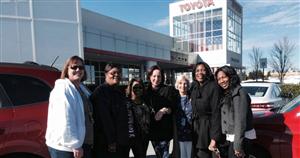 We would like to extend a special Thank You to our Partner in Education - Toyota of Knoxville. They held a wonderful Thanksgiving Luncheon and presented our school with over 20 Thanksgiving boxes and 20 turkeys to give to families of Fair Garden. It was a wonderful display of service to our students and families!
ENROLLMENT
If you are interested in enrolling your child in a Title I PreK program and you live in a Title I School Zone, you must first fill out a Contact form. You can go to either Fair Garden PreK or Sam E. Hill PreK to fill out the form. You could also click on this link to download your own copy of the
Title 1 PreK Contact Form
. Bring the completed form to either schools. When availability arises, you will be contacted by the school's Social Worker.