FIRST FULL DAY OF SCHOOL!
Monday, August 25, 2014 will be our first full day of school. We are excited about seeing all of our students on that day. Doors will open at 7:20 a.m., school begins at 7:45 a.m., and dismissal is 1:15 p.m. If you haven't done so already, please bring an extra pair of your child's clothes to be kept at school.
PARENT INFORMATION NIGHT!
On Tuesday, August 26, 2014, we will have our Parent Information Night from 5:30 p.m. - 6:30 p.m. On this night, you will get more detailed information from your child's teacher about his/her classroom expectations along with important information about our new HighScope curriculum! We hope to see you soon!
As early as July 14, 2014, you can begin enrolling your 4 year olds for the 2014-2015 school year! Office hours are from 8 am -11:30 am & from 1:00 pm - 3:00 pm. Please come by the office to fill out the necessary forms or contact us if you need more information at 865-594-1320.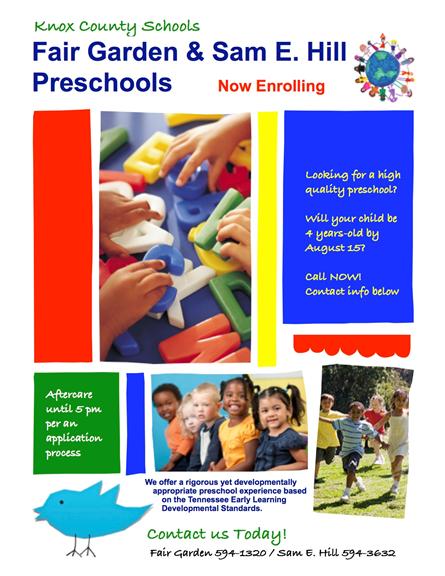 STAGGERED ENTRY
At Fair Garden, we participate in "staggered entry". This process encourages a gradual transition from home to school. Each preschooler is assigned a staggered entry day and will come to school only on that day during the first week of school (August 11th-13th). Children will meet all of the preschool teachers and a few classmates on this day. You can arrive as early as 7:20 a.mm., but please no later than 7:35 a.m. Staggered days are from 7:35 a.m. - 11:15 a.m. Our staff will be available to greet you and will escort your child to the classroom where he/she will begin the day. For more information on Staggered Entry, please click
HERE
.