SPRING ENROLLMENT ROUND-UP FOR 2015-2016!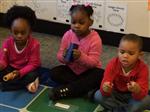 Tuesday, April 14 and Thursday, April 16 from 2:00-5:00 p.m.
You must bring the following items with you in order to enroll:
1. The child's official, state-issued birth certificate (NOT the "Mother's Copy" or the one with footprints on it)
2. The child's Tennessee Certificate of Immunization
3. Your current proof of residence (KUB, lease, mortgage statement). If the utilities or lease are not in your name, you need to bring in a NOTARIZED statement from the person you live with and that person's recent KUB bill. You must live in a Title 1 elementary school zone to be eligible for Fair Garden Preschool.
4. Custody papers, if you are not the child's birth mother
5. We would like to have the child's Social Security card or number. However, this is optional.
Spaces are limited and will be filled as parents turn in complete enrollment packets.
Thank you for your interest in our preschool!
GENERAL ENROLLMENT INFORMATION
If you are interested in enrolling your child in a Title I PreK program and you live in a Title I School Zone, you must first fill out a Contact form. You can go to either Fair Garden PreK or Sam E. Hill PreK to fill out the form. You could also click on this link to download your own copy of the
Title 1 PreK Contact Form
. Bring the completed form to either schools. When availability arises, you will be contacted by the school's Social Worker.