Hour of Code ™
December 3-9
As we have done for many years, all of our intermediate students at Halls Elementary will be working on coding during this time period.
The 'Hour of Code™' is a nationwide initiative by Computer Science Education Week [csedweek.org] and Code.org [code.org] to introduce millions of students to one hour of computer science and computer programming.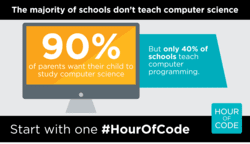 Participate in the Hour of Code™ at ACMECorp.com and connect at code.org for more information.
---