BOX TOPS
It's BOX TOPS time @FCE!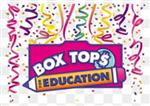 ~ Collect valid Box Tops[clipped or scanned] Note: When using the App, you must indicate your child's teacher to get classroom credit toward the Trophy challenge.
~ Place Box Tops in a baggie/envelope. Please include student's name, teacher, and grade.
~ Turn in labeled Box Tops to FCE by
Friday, November 1st.
~Due to the decline in products that have Box Tops, we will also accept dimes! If you can't find Box Tops or don't have the time to clip / scan, send in your dimes! Remember, include the student's name and the teacher's name for Challenge credit.

Download the new App or update your existing app, available on the App Store and
Google Play. See how to scan at BTFE.com
---