It's Coupon Book Time in Tennessee!
Our annual Knox County Coupon Book Campaign started September 13. Books are only $10. We are so happy to announce that this year $9 will be kept at FIS. The proceeds from each book sold go directly to supporting our students and teachers.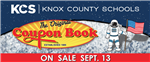 Please consider buying a coupon book from one of our FIS students or come in to the office to pick yours up during school hours. Thank you!
---