School Coupon Book Sale! September 2019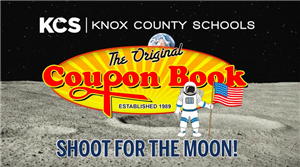 The Knox County Schools coupon book campaign kicks off on Friday, September 13th and runs through, Monday, September 30th! Please check your student's folder/backpack for more information (including prizes) on Thursday, September 12th.
Our goal for 2019 is to sell 4000 or more Coupon Books.
If we succeed in this effort, the money will be used as follows:
New technology to equip our school for hands-on innovative learning.

Curriculum and instruction materials or any other items needed for the classroom. (Each teacher will receive $1.00 per book sold in his/her classroom.)
Professional Development; as our teachers are always striving to improve and learn.

Playground: Phase 2 of our playground renovation that began last year.
Additional information will be sent home on Friday, September 13th. Thank you for your support!
__________________________________________