Return to Headlines
Knox County Schools Celebrates Teachers of the Year and Tenure Recipients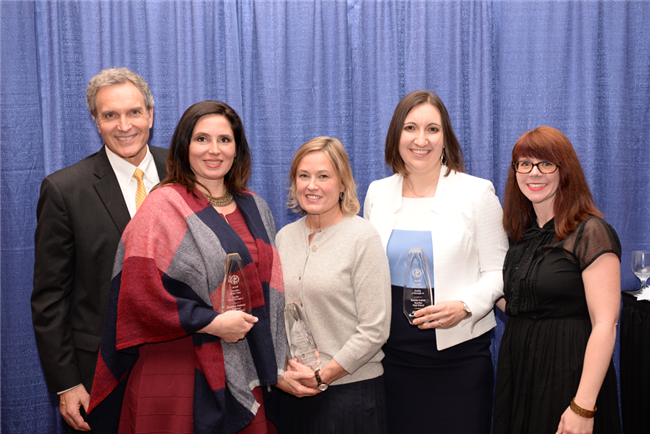 (L to R) Interim Superintendent Buzz Thomas, Heather Palmer, Mary Sue Pruitt, Karen Latus, Board of Education Vice Chair/District 9 Representative Amber Rountree
Knox County Schools honored nearly 200 teachers during its 2017-2018 Teacher of the Year celebration at the Holiday Inn Downtown on Tuesday, Feb. 21. The event was sponsored by Kroger and Partners in Education.
The Teacher of the Year celebration is held each year to recognize outstanding educators from Knox County Schools. To be considered, a candidate must be a full-time, certified PreK-12 teacher who has taught five or more years and spends the majority of the day instructing students. Candidates must also show dedication to teaching and possess a variety of positive personal attributes. School-level recipients are nominated by their colleagues for this annual award and the number of recipients per school is determined by the number of faculty at the school.
From the group of school-level winners, the following three Knox County Teacher of the Year recipients were selected using the Tennessee Department of Education guidelines:
Heather Palmer from Dogwood Elementary: Ms. Palmer has been with Knox County Schools since 2009 and prior to that served as a substitute teacher for five years. As a librarian, she sees students in all grade levels.
Mary Sue Pruitt from Farragut Middle School: Ms. Pruitt has been with Knox County Schools for 13 years. She has served as a middle school assistant principal and a teacher. Her tenure in education, though, goes back to 1988.
Karen Latus from Bearden High School: Ms. Latus has served Knox County Schools for eight years as a track and field coach/cross country coach, a Spanish teacher and a health center clinician. Prior to joining Knox County Schools, she was with Loudon County Schools and other public high schools in Michigan.
On Tuesday, March 21, at the Sarah Simpson Professional Development Center, Knox County Schools will honor even more employees—150 educators who have earned tenure effective this school year. This number represents 50 more than last year. The event, rescheduled from last month, will include dinner and special guest speaker WATE 6 On Your Side Anchor Lori Tucker.
Academic tenure is a professional status granted to employees after serving five school years and receiving performance evaluations "above expectations" or "significantly above expectations" with regard to effectiveness of teaching based on the evaluation guideline set forth by the Tennessee Board of Education.