Return to Headlines
Bearden High School Principal Named Tennessee State Principal of the Year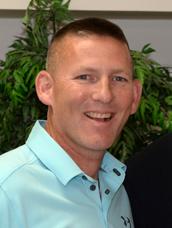 May 2016 -
John C. Bartlett, principal of Bearden High School
, has been named the 2016 State Principal of the Year by the Tennessee Association of Secondary School Principals. Dr. Bartlett will join his/her fellow state principals of the year from across the country for consideration as 2017 National Principal of the Year in a program conducted by the National Association of Secondary School Principals (NASSP).
John Bartlett is currently the principal at Bearden High School in Knoxville, Tennessee. Prior to his arrival at Bearden in 2008, he served as principal at Loudon High School in Loudon, Tennessee, from 2004-2008 and taught US History and coached baseball from 1996-2004 at Bledsoe County High School in Pikeville, Tennessee.
"NASSP is proud to highlight the incredible work that these principals are doing in our nation's schools," said NASSP Executive Director JoAnn Bartoletti. "State principals of the year show all educators the strides schools and students can make when a principal is committed to raising student achievement through personalization and collaboration."
The NASSP National Principal of the Year program convenes the year's top principal from each of the 50 states, the District of Columbia, the Department of Defense Education Activity, and the U.S. Department of State Office of Overseas Schools to be honored at a three-day Institute in Washington, DC, September 11–14, 2016. During the event, principals will meet with their elected officials to discuss legislation that impacts education, participate in professional development and network with NASSP staff and their peers, and be officially recognized for their achievement during an awards program.
From this pool of state winners, three national finalists are named in August and interviewed by a distinguished panel of judges during the Institute. The 2017 NASSP National Principal of the Year will be announced at the winner's school during National Principals Month in October.
Additional information about the NASSP National Principal of the Year program can be found at
www.nassp.org/poy
.
About NASSP
The National Association of Secondary School Principals (NASSP) is the leading organization of and national voice for middle level and high school principals, assistant principals, and all school leaders from across the United States and more than 36 countries around the world. The association connects and engages school leaders through advocacy, research, education, and student programs. NASSP advocates on behalf of all school leaders to ensure the success of each student and strengthens school leadership practices through the design and delivery of high quality professional learning experiences. Reflecting its long-standing commitment to student leadership development, NASSP administers the
National Honor Society
,
National Junior Honor Society
,
National Elementary Honor Society
, and
National Association of Student Councils
.