Return to Headlines
52-Year Teaching Veteran Retires in 2015-2016 School Year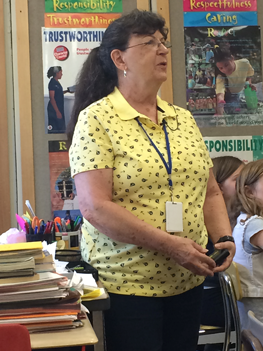 1964 was a leap year that followed the year of President John F. Kennedy's assassination when President Lyndon Johnson declared a "War on Poverty" in his first State of the Union address; the Surgeon General first reported that smoking may be hazardous to our health; plans to build the New York City World Trade Center were announced; The Beatles landed the #1 spot on the U.S. Singles Chart with I Want to Hold Your Hand; the first Ford Mustang rolled off the assembly line at Ford Motor Company; and Dr. Martin Luther King Jr. became the youngest recipient of the Nobel Peace Prize. 1964 also brought the debut of the film version of the musical My Fair Lady and Walt Disney's Mary Poppins as well as the premier of Jeopardy! and other classic television shows like Bewitched, The Addams Family, Flipper, Gilligan's Island, and The Pink Panther. The average annual American income was $5,880 and gas was just $.25 per gallon.
1964 was also the first year of Mrs. Alice Bratten's teaching career. Mrs. Bratten walked into the brand new, not yet finished Sunnyview Elementary on her first day as a 5th grade teacher. "In 1964, it was a hard time. During that time Kennedy was killed and there was all this unrest about the Vietnam War and other things. That made teaching really rough."
But Mrs. Bratten wasn't scared away. She taught at Sunnyview until Chilhowee Intermediate was built to house all Sunnyview students in grades 3, 4 and 5. Since that move, she's been in the same wing of Chilhowee Intermediate for the last 25 years, only moving classrooms once.
What's her secret? "Being flexible. If you're not flexible, you're going to have a hard time staying and doing what you're doing."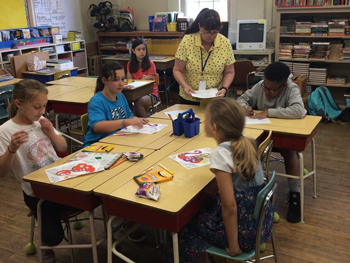 "People have been asking me for a long time, probably the last 10 years, if I was going to retire. I'd say, no, as long as it's fun and I feel like I'm doing a good job, I'm going to keep doing it," Mrs. Bratten said. But as the last day of the 2015-2016 school year draws to a close, Ms. Bratten will teach her last class, load her last bus, and wish her last students well for the summer. After serving more than 1,500 students in the Knox County Schools in 52 years, some grandchildren of previous students, she is retiring. "I just feel like it's time for somebody else to get to do it. I've had my fun and enjoyed every minute of it."
Mrs. Bratten has been happy to call the Knox County Schools her home for the last half century, saying, "It's a good system. Knox County I think is one of the best. They give a chance for all children. We take everybody and try our best to make them better as citizens, which I think is easily as important as being academically outstanding."
She hasn't yet packed up her classroom and plans to work a lot of the week after school doing that, but when she was asked what her plans were now that she didn't have to teach anymore, she said, "I'll probably stay up all night and read a book!"
The Knox County Schools certainly celebrates Mrs. Bratten's incredibly remarkable accomplishments in educating our students. We are grateful for the time she has given to the children in this community and will be thrilled to welcome her back any time. "It's not a sad time," she said, "I plan to come back as a volunteer and help the teachers here as much as I can."