Return to Headlines
Five Knox County Bus Drivers Recognized in First Ever Bus Safety Awards
Five bus drivers representing different contractors and routes from across the county, were recognized at the Knox County Bus Safety Awards this week. These drivers were selected from a pool of candidates who have already undergone a Bus Driver Safety Check Ride—which includes 120 performance indicators divided into 20 safety categories.
Regina Patterson, a 12 year driver, was recognized as a young voice from the gathered audience yelled, "Go mom!" Ricky Denton, a 2 year driver; Esther McGinnis, a 34 year driver; David Ray, a 30 year driver; and Rhonda Gaylon, a 14 year driver, were also recognized.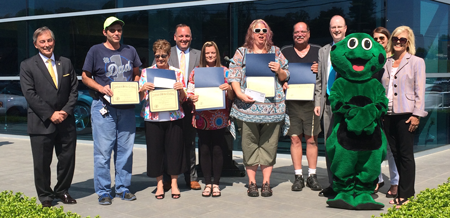 "We have focused a lot on school bus safety over the years. While there have been some issues and concerns addressed, the vast majority of our drivers are doing an incredible job and care deeply about the kids on their buses," said Dr. Jim McIntyre, Superintendent of the Knox County Schools at the first ever Knox County Schools Bus Safety Awards coordinated by Vice Chairman of the Knox County Commission Bob Thomas.
School Board Members Terri Hill (District 6) and Patti Bounds (District 7) were also in attendance. Of the event, Hill said, "This is an exciting tradition that is being started and it is wonderful that we are able to recognize those who do the behind-the-scenes work."
Marsha Dance, a parent with a student on Rhonda Gaylon's bus, who attended the ceremony, said, "Rhonda is the greatest bus driver. She cares about kids so much. She's amazing. I wrote a letter to the paper two weeks ago about how great she is because I'm so tired of all the negative news. She is so deserving of this recognition."
Gaylon herself said, "This is so great. It's a wonderful thing that's being done to make us feel good about what we do."
John Llewellyn of JLL Transport LLC was also in attendance at the ceremony. "We don't have any drivers recognized today, but we wanted to be here to support the ones that were. This is long overdue because bus drivers cover more than 20,000 miles per day to get kids to and from school."
The winners received a certificate from the Knox County Schools and a $100 check from Andy White of sponsor Ted Russell Ford. White today said, "This is really about the commitment these people have to the kids in Knox County. I am so proud to be a part of recognizing the first five drivers and look forward to recognizing many more."
Vice Chairman Thomas, a self-described positive person, said, "When accidents and mistakes happen, they need to be addressed for sure, but there has to be a balance. I felt like part of this story was missing because a lot of drivers are doing it right every day and I wanted to be able to bring that to everyone's attention." Thomas hopes to recognize five drivers each month that school is in session for the tremendous work they do on our buses, for our students, and in the community.
The next award ceremony is scheduled for May 18, 2016.
If you are interested in joining the Knox County Schools Bus Driver team, please contact the transportation department at (865) 594-1550 for information about how to apply.