Return to Headlines
Celebrating Teachers of the Year Honorees and Winners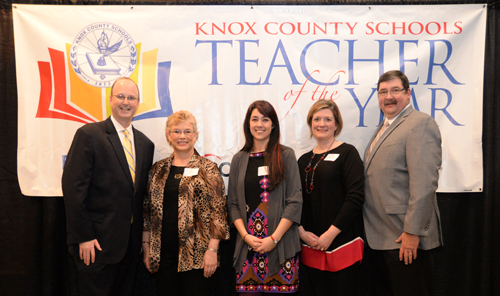 During the 2016 Teacher of the Year Celebration held on Tuesday, February 23rd at the Holiday Inn Downtown with more than 440 educators, administrators, elected officials and family members in attendance, 181 teachers were honored for the extraordinary work they do in the classrooms of the Knox County Schools. The event was sponsored by Comcast, Rusty Wallace Automotive, and Kroger.
The Teacher of the Year celebration is held each year to recognize outstanding educators from the Knox County Schools. The Knox County Schools adheres to the Tennessee Department of Education guidelines for selecting the three overall Teacher of the Year award recipients. To be eligible for the Teacher of the Year honor, each candidate must be a full-time, certified Pre K-12 grade teacher who has taught five years or more and spends the majority of the day instructing students. Candidates must also show dedication to teaching and possess a variety of positive personal attributes. Recipients are nominated by their colleagues.
The number of Teacher of the Year honorees each school could recognize was based on overall faculty numbers. Schools are allowed to recognize one honoree for every 20 faculty members so honorees from each school were be recognized, but only three honorees—one primary educator (PK-4) and two secondary educators (5-8 and 9-12)—received the Knox County Teacher of the Year award.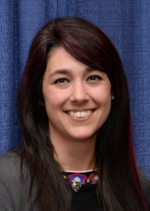 The elementary educator who received the award was Jessica Stewart from Christenberry Elementary. She has been with the Knox County Schools for four years and her philosophy of teaching centers on the idea that every child has the potential to learn and holds the capacity to grow, experiment, achieve, think and reason. Additionally, by getting to know her students she is better able to meet their needs and earn their respect during class. One recommendation letter in Ms. Stewarts file said, "I can't think of a person more deserving of this honor for many reason including, but, not limited to, her extraordinary character and leadership qualities, her devotion to teaching students, and her unselfish service to others." Additionally, she was described as "the person that students will remember well into adulthood not only for the engaging lessons that she taught them, but also because she completely cared for each of them." Above and beyond caring for her students, Ms. Stewart takes care of her colleagues too! Each semester she devotes a week of after-school workshops called "Open Art Studio" where staff may come in and create a clay work of art. She encourages attendees to unwind, relax, and enjoy art while soft music and lighting sets the tone for her fellow teachers to create masterpieces. Simply put by her principal, "She is the best!"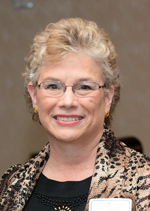 The Teacher of the Year for the Knox County Schools middle grades was Jill Gill from Ritta Elementary. She has a 20 year history in the public school system. With such a storied educational past, she has developed teaching strategies and practices that begin with sharing her high levels of expectations for all students. Ms. Gill bases all lessons on the standards and continuously pushes herself toward quality presentation. Additionally, she tries to make learning personally meaningful by incorporating relevant information from their lives. Her principal describes her as, "one of our most effective teachers. Her knowledge and experience make her a valuable resource and she is a great example of the kind of educator we want in each classroom." She is consistently a level 5 teacher. She comes in early and stays late most days to make sure she is prepared with meaningful lessons to meet the needs of her students. In addition to mentoring new teachers, she is an Aspen trainer and a TNReady support teacher. A colleague of Ms. Gill's said, "Not only is it a pleasure to work with her, but I am challenged to be a better teacher because of her support and dedication."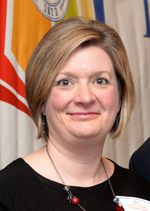 The High School Teacher of the Year was Valarie Cagle from Farragut High School, who, with 16 years of teaching experience, has served as spent many hours developing and monitoring a MICA schedule that led her school to the highest percentage of students using MICA with one of the lowest student-to-computer ratios in the county. In the classroom, the scores of her students consistently rank in the top three of all English I classes in the county's 17 high schools. She has been a sponsor for cheerleading, student government, newspaper, prom committee, and junior honor society. She has also served as an at-risk mentor and the humanities academy advisor. She volunteers her spare time with the Angel Tree and Love Kitchen. Her key educational ideals are: all children are unique learners capable of growth; effective educators are guides who show rather than tell; and liberal education reflects and reciprocates the American dream. In conjunction with that, a student said of Ms. Cagle, "She gives [us] tools to achieve [our] goals on [our] own without [making us feel] alone.[Her process] encourages a deeper level of thinking." As described by her principal, she is "deliberate and compassionate in her leadership." "[Ms. Cagle has shown herself to be] one of the most valuable educators at our school by "providing leadership to her colleagues, teaching and loving her students at a high level, and gracefully stabilizing [the] staff in [her department under] challenging conditions."
Every day, these three winners and all other honorees help ensure that each of our more than 58,000 students are academically successful, college and career ready, economically competitive, and personally fulfilled. The continual focus of the Knox County Schools is that every student will have the opportunity to successfully reach their highest potential, regardless of whatever challenging circumstances they may face. By giving of time, bringing personalized instruction to the classroom, and equipping children for bright and successful futures, these teachers are making positive impacts on our community and our region—they are the ones cultivating Knox County's greatest resource, our future leaders and decision makers, our future parents and stakeholders.
The Teacher of the Year celebration is held each year to recognize outstanding educators who were nominated by their colleagues based on the guidelines and criteria set forth by the Tennessee Department of Education, including: educational history, professional development, community involvement, philosophy of teaching, and contributions to education, among other things.