Return to Headlines
UT-Battelle Investment Expands Academics in Knox Schools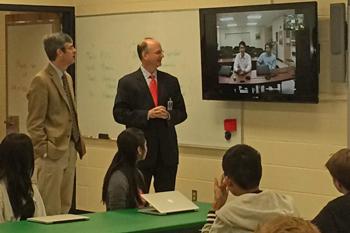 September 24, 2015 - ORNL Director Thom Mason got an up-close look at the results of UT-Battelle's investment in distance learning Thursday.
Mason visited an Honors Math Computer Science course in a Farragut High School classroom that's linked to West High School, where two students joined via video and audio links. The class is a prerequisite for Advanced Placement Computer Science that the West students couldn't have taken without linking to the Farragut class.
It illustrates the reason UT-Battelle contributed $450,000 to the Knox County Schools for distance learning equipment. "Because you can share those resources, anyone who's interested in computer science can prepare for the AP course," Mason said.
In all, 11 Knox County schools are benefiting from the UT-Battelle equipment, and not only in science- or math-related subjects. Students are learning Chinese, too, for instance. The school system recently appointed a coordinator who will continue building connections among schools with the technology.
"It's a technology we use all the time in our work at the lab," Mason told students. He explained that through the Consortium for Advanced Simulation of Light Water Reactors (CASL), ORNL brings together researchers from national laboratories, universities and industry to develop code that can be used to understand and improve the 100 nuclear reactors that generate 20 percent of U.S. electricity.
"When you're collaborating writing code, you need to be in good communication with each other," Mason said. "The fact you can interact in real time, see the expressions on people's faces, has made a big difference for us in CASL."
Knox County Schools Superintendent Jim McIntyre lauded Mason's work as an administrator, scientist and community leader, calling UT-Battelle "incredibly important" to the schools' success.
Buzz Thomas, president of the Great Schools Partnership, which facilitated UT-Battelle's donation, said public investments in education in the region aren't adequate to build great schools.
"The way we catch up is with great partners," Thomas said. "You can't find a better partner than Oak Ridge National Laboratory. The brightest people in the world are there. I hope some of these students are working for you some day, Thom."
ORNL Media Contact