Return to Headlines
Innovative Learning Environment Launched at Two Schools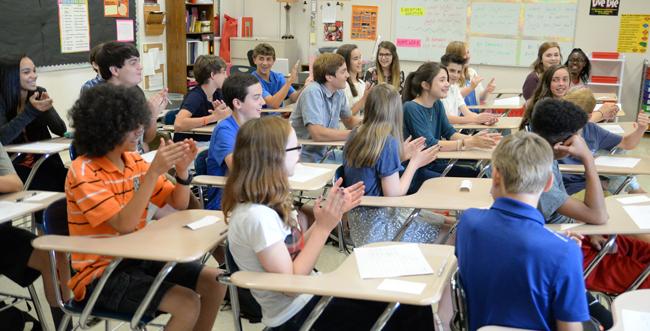 Students at Bearden Middle School celebrate the announcement that school was selected to participant in the Verizon Innovative Learning Schools (VILS) program.
Bearden Middle School and Carter Middle School have been selected to participate in the Verizon Innovative Learning Schools (VILS) program directed by Digital Promise.
Through this program, these two schools will create innovative learning environments powered by mobile technology. Students will receive "always-available" Internet access and personal tablet devices to use for learning in the classroom and at home, and teachers will be provided personalized professional learning opportunities, including participation in a national community of practice. Both schools are assigned a coach to help teachers set and realize their goals for learning. In addition, each school will document stories, perspectives, and lessons from participating educators, school leaders and students. The resulting stories, resources, and policies will be shared continuously online, creating a "behind the scenes" guidebook for educators going through similar processes in their own schools.
ADDITIONAL FACTS/BACKGROUND:
Verizon is donating tablets and 2-year, 5-gb/month data plans to Digital Promise. Digital Promise is providing them to 13 schools in six districts across the United States for the 2015-2016 school year. Together with the eight schools in four districts that started the program in 2014, the total served through this program is 21 schools in 11 districts for the 2015-2016 school year.
The schools selected by Digital Promise for this program are an expansion of the Verizon Innovative Learning Schools program. The Verizon Innovative Learning Schools program, launched in 2012 in partnership with the International Society for Technical Education (ISTE), has worked with 24 elementary, middle and high schools, 229 teachers and 11,500 students across the country. An ISTE-supported evaluation revealed that the program's results are promising: In each of the past two school years, students at participating schools made stronger gains in mathematics and science than students at comparison schools.