Return to Headlines
Back-to-School Safety Reminders, Bus Safety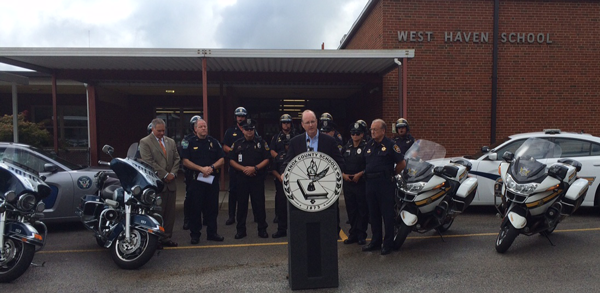 Timely reminders about safety were offered on Aug. 7, 2015, by Knox County Schools Superintendent Jim McIntyre, Knoxville Police Department Chief David Rausch, Knox County Sheriff's Office Chief Deputy Eddie Biggs and Knox County Schools Chief of Security Gus Paidousis.
"School buses travel almost 3 million miles each year—close to 17,000 miles each day—for the Knox County Schools," said Dr. McIntyre. "About 350 buses carry hundreds of our 59,000 students to our 90 schools, so it's vital that we all remember to drive slowly and responsibly, be patient in school zones and watch for children near bus stops and in neighborhoods. The safety and security of our students are the highest priority for the Knox County Schools. Please remember to be patient. Our children are worth the extra time."
Dr. McIntyre also outlined recommendations for bus safety enhancements:
Mandatory additional hours of training annually for bus drivers to maintain their standing on the approved drivers' roster, this year focusing the training on distracted driving
"Safety check ride system," which will periodically bring specially trained uniformed officers on board school buses to observe drivers, ensure adherence to safety protocols and conduct a brief visual inspection of the vehicle
Two-camera video systems installed on all buses to enhance the ability to investigate concerns expressed by bus drivers, students and parents
Organizational and operational review of the Knox County Schools' transportation program conducted by an independent third-party expert
These enhancements, carried out through collaboration with the Knoxville Police Department and Knox County Sheriff's Office, will begin to be implemented this fall.
The first day of school for Grades 1-12 is Monday, Aug. 10, 2015, which is a half day for students. Kindergartners begin Aug. 11 and follow a staggered schedule.