Return to Headlines
Senior Class Gives Legacy Gift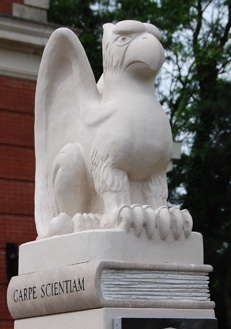 The "Guardian of Knowledge" now welcomes visitors to the L&N STEM Academy.
The building is more than 100 years old, but the former L&N Train Station, now the L&N STEM Academy, is still home to many "firsts."
"We are the first graduating class to go all four years here," said Chris Kleinschmidt.
To commemorate their achievement, the 2015 graduate and his fellow classmates decided to leave a lasting legacy. "We had a senior class meeting to plan out our gift, and we thought the statue would be the greatest idea," Kleinschmidt said.
Images of the griffin, the school's mascot, are found throughout the historic building.
"We looked around on the internet and found Liz-Beth & Co., we saw they did some of the artwork downtown, so we called them," Kleinshchmidt said.
Chief Financial Officer Beth Watkins and Administrative Director Gregg Phenicie provided significant financial support, coordination and encouragement for the students' vision and contacted a sculptor, Bill Cook Jr.
Bill Cook Jr. worked with students to design the sculpture.
"I thought it was a really good idea, the kids came up with a good plan," Cook Jr. said.
Cook donated the material, limestone recycled from an old building at the University of Tennessee, while the seniors fundraised to cover the work.
Months of planning and sculpting led to the big reveal on May 14. Titled the "Guardian of Knowledge", the griffin is perched atop a book bearing the term "Carpe Scientiam". The Latin phrase meaning "Sieze the Knowledge" serves as the high school's motto.
"You are giving a gift not just to the school but to the community, as well," said Knox County Board of Education District 1 Representative Gloria Deathridge. "When you came here, you were trusting in the promise of a 'concept.' We couldn't be more proud that the 'concept' has been proven true, and that is because of the dedication and vision of the administration and teachers at L&N and of the Class of 2015. This gift symbolizes respect for the educational process and aspirations to seek knowledge…that's quite a legacy for the 2015 Senior Class to leave at L&N STEM Academy."
"It is such an honor and such a moving legacy for them to leave behind something so remarkable for the classes that come behind them," said Becky Ashe, Principal of the L&N STEM Academy.
It's a moving legacy from students moved by their high school experience.
"It's hard to repay what they've done for us, and I think this is a good way for us to kind of show our appreciation for the school and everything they've done for us," Kleinschmidt said. "It's an awesome school and I love it here, and if I could go back and do it all over I would do it all again."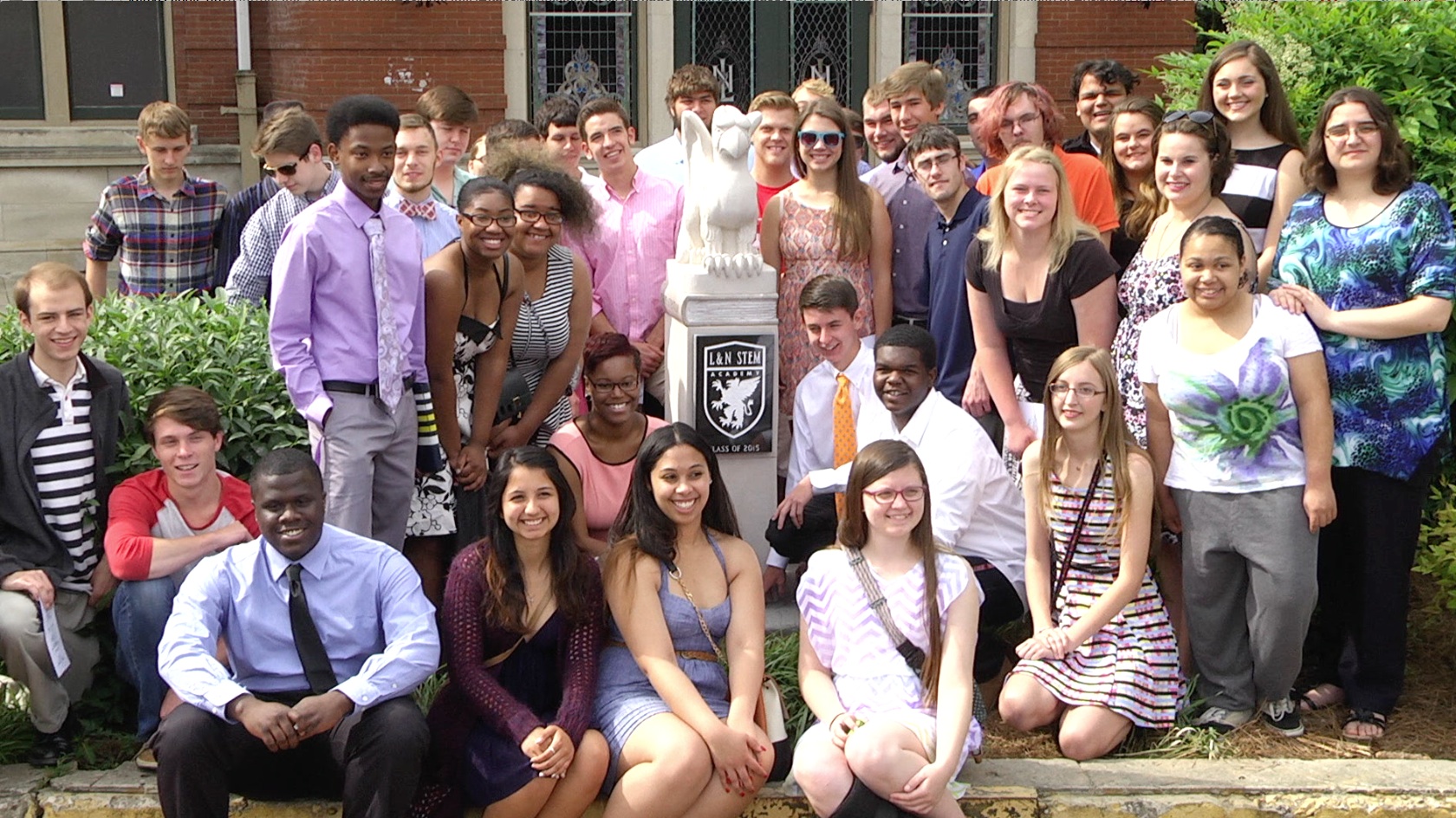 Seniors from the class of 2015 pose with the "Guardian of Knowledge" after its unveiling at the L&N STEM Academy.