Return to Headlines
Roberts Wins CTE Goes Live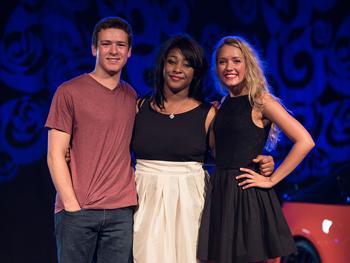 Emily Roberts (right), a sophomore at Karns High School, won the 2015 CTE Goes Live competition on May 8. Second place was Jackie Jackson, a junior at Austin-East Magnet High School, and third place was Braden Thayer, a Farragut High School sophomore. Photo by Sarah Lynn Abbott, Farragut High School
Emily Roberts, a sophomore at Karns High School, was named the winner of the 2015
CTE Goes Live
talent competition. Held May 8, 2015, at Market Square in downtown Knoxville,
CTE Goes Live
gives high school students of the Knox County Schools a live venue to show off their vocal talents. Contestants are selected from winners of school-level competitions, and the winner of
CTE Goes Live
is awarded a fully produced, radio-ready, mastered track with
Nash10 Studios
and one recording session with Nash10 Studios in Nashville, Tenn.
Second place in the competition was Jackie Jackson, a junior at Austin-East Magnet High School, and third place was Braden Thayer, a Farragut High School sophomore.
In addition to recognizing vocal talents of students,
CTE Goes Live
also serves a much broader purpose. The Career and Technical Education (CTE) Department hosts this event to give students in CTE classes real-life experience of producing an event. Students in graphic design classes design all flyers and posters; students in photography classes take all pictures for the event and photo shoot; construction classes help build and dismantle the stage; students in TV and radio classes provide live footage on radio and web; criminal justice students provide security in the "green room"; and students in cosmetology work with the contestants prior to the event.
CTE Goes Live
was presented by the Knox County Schools Career and Technical Education Foundation and Scion Knoxville.