Return to Headlines
Barney Thompson Scholarship Honors Advocacy, Awards Academic Excellence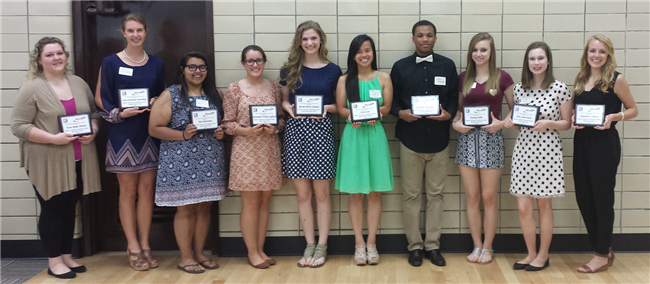 Present at the May 4, 2015, Barney Thompson Scholarship recognition event were (L to R) Kristi Renee Minton, West High School; Sara Christine Zetterberg, Farragut High School; Yeni Martinez, Central High School; Savannah Yvonne Stafford, Karns High School; Rachel Marie Cormack, South-Doyle High School; Kristi Cao, Hardin Valley Academy; Zackese Alexander, Austin-East Magnet High School; Katelyn Edlin, Powell High School; Erin Louise Norris, Halls High School; Madeleine I. Helton, Carter High School. (Not pictured: Freeman A. Drake, Dr. Paul Kelley Volunteer Academy; Simmone Smith, Fulton High School; Ayanna Troutman, L&N STEM Academy)
Thirteen seniors in the Knox County Schools were recognized for their academic excellence on May 4, 2015, by receiving the 2014-2015 Knox County Schools' Barney Thompson Scholarship:
Zackese Alexander, Austin-East Magnet High School
Kristi Cao, Hardin Valley Academy
Rachel Marie Cormack, South-Doyle High School
Freeman A. Drake, Dr. Paul Kelley Volunteer Academy
Katelyn Edlin, Powell High School
Madeleine I. Helton, Carter High School
Yeni Martinez, Central High School
Kristi Renee Minton, West High School
Erin Louise Norris, Halls High School
Simmone Smith, Fulton High School
Savannah Yvonne Stafford, Karns High School
Ayanna Troutman, L&N STEM Academy
Sara Christine Zetterberg, Farragut High School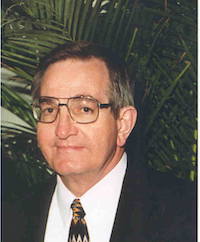 Barney Thompson
Through the Barney Thompson Scholarship program, a $500 scholarship is awarded each year to a high school senior at each Knox County Schools high school­ from which applications are received. In 2009, the Knox County Schools Partners in Education Advisory Board initiated the scholarship program to honor the memory of Barney Thompson. Thompson taught and coached at South High School in the 1970s. After his successful career in education, he served as the executive director of the Knoxville Area Association of Realtors and continued as an education advocate as the treasurer of the Partners in Education Advisory Board for 15 years.
The Knoxville Area Association of Realtors contributes $4,000 each year toward the scholarships, and the remainder is funded through the Knox County Schools' Dine Out for Education.