Return to Headlines
Dine Out for Education on April 14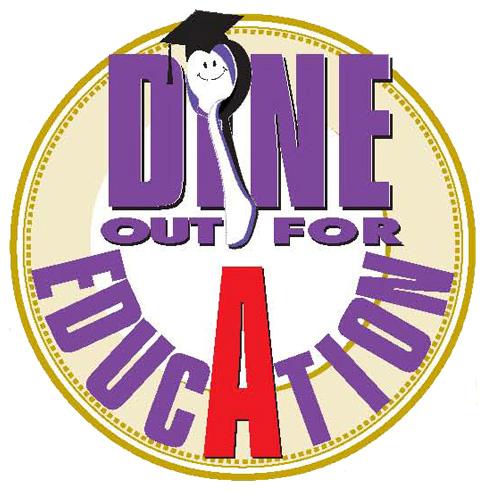 It's perhaps the easiest—and most delicious—way to support education. The Knox County Schools' 12th annual
Dine Out for Education
will take place on Tuesday, April 14, 2015. That day, about 35 area restaurants with more than 70 locations will donate 10 percent of their proceeds from the day to the Knox County Schools. Participating restaurants will display the "Dine Out for Education" logo.
To date, Dine Out for Education participating restaurants, many with multiple locations, include the following:
Aubrey's

Back Yard Burgers

Bojangles'

Brixx Wood-Fried Pizza

Brown Bag

Cafe 4

Chandler's Deli

Coolato Gelato

El Chico

Gondolier Restaurant

Jason's Deli

Jersey Mikes Subs

Jet's Pizza

Kitts Cafe

Litton's Market and Restaurant

The Lunchbox

Mahogany's at Crowne Plaza

Marco's Pizza

McAlister's Deli

Mooyah

Peerless Restaurant

Perkins Restaurant & Bakery

Pizza Hoss

Pizza Inn

Salsarita's Fresh Cantina

Savory and Sweet Food Truck

Shoney's of Knoxville

Shono's Japanese Grill

Snappy Tomato Pizza

Stir Fry Cafe

Texas Roadhouse

Wasabi Japanese Steakhouse

Ye Olde Steak House
NEW THIS YEAR: Mobile Food Vendor:
For the first time in the 12-year history of Dine Out for Education, a mobile food vendor will participate.
Savory & Sweet
food truck will be located at Ijams Nature Center on April 14 to participate in Dine Out for Education. For a complete list of participating restaurants and locations, click
here
.

In celebration of Dine Out for Education, Dr. Jim McIntyre, Superintendent of the Knox County Schools, along with elected officials, will enjoy breakfast at Café 4 (4 Market Square) at 7:45 a.m. on April 14. No business will be discussed, and officials will pay for their own meals. Also, the Knox County Board of Education and McIntyre will enjoy lunch at Aubrey's (6005 Brookvale Lane @ Landmark Center) at 11:30 a.m. on April 14. Business may be discussed, and officials will pay for their own meals.
Proceeds from Dine Out for Education support
Partners in Education
programs, such as the annual Knox County Schools Career Day, Teacher Supply Depot, Clothing Center, Schooled for Success, Barney Thompson Scholarships and teacher recognition programs. Partners in Education connects schools throughout Knox County with nearly 600 contributing organizations, businesses, civic clubs, churches, government agencies and individuals who want to make a difference in schools with their time, talent and resources. For more information, call 865-594-1909.

Please note that two or more members of the Board of Education may be present.