Return to Headlines
Teachers and classroom excellence honored at celebration
---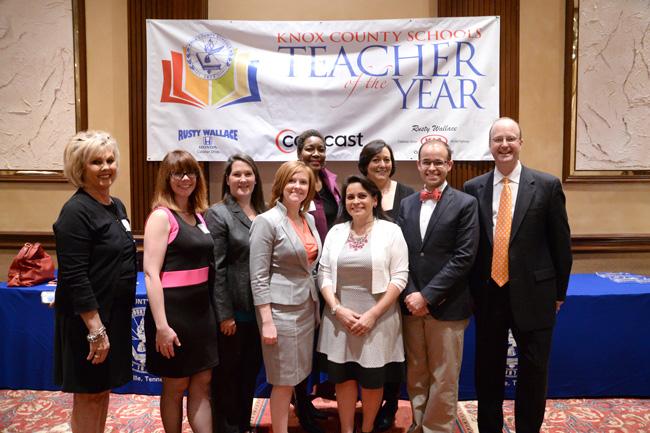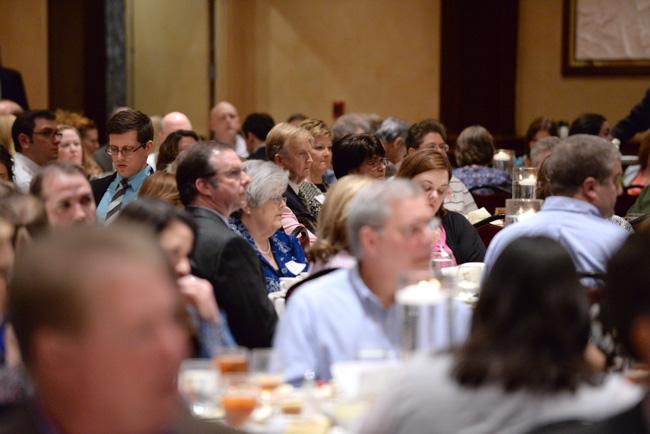 Just like their music fills her room, Kami Lunsford's students fill her heart.
"Hearing kids make music, especially when it's their own music, I really can't explain," she said. "The joy that comes over me when that happens is probably my favorite."
The Karns music and chorus teacher is Knox County Schools' 2015 Middle School Teacher of the Year.
"To be able to represent arts teachers in our community, and for folks in my community that aren't arts teachers to recognize [the arts], it's humbling," she said.
Joining Lunsford as one of Knox County's top educators is Lonsdale third grade teacher William Smith.
"I love watching the kids, from the first day they come to you, how they come to you, and watching them grow and change throughout the year," he said.
Smith credits that growth to knowing his students on a personal level and adjusting his teaching accordingly.
"Every time that little light bulb goes off in their heads and they're learning something new, it's just that exciting," he said. "They're the reason you're there. It's all about the kids."
Rounding out the group receiving top honors is Gibbs English teacher Jennifer Williams, the 2015 High School Teacher of the Year.
"I feel humbled," she said. "Absolutely one hundred percent humbled."
Drawing inspiration from her mother, Williams prepares her students for life outside of high school.
"She was from the Philippines, and she always told me that education is one thing that nobody can take away from you," Williams said. Now she passes that sentiment on to her students. "I try to have fun, but I try to teach them beyond the classroom."
The trio joined peers from every Knox County school at the annual Teacher of the Year celebration. District leaders recognized nearly 175 educators for their extraordinary work, day in and day out. Colleagues nominated the recipients to recognize their commitment, educational leadership and philosophy of teaching.
From building a strong foundation, to songs of success and preparations for the real world, the Knox County Schools' Teachers of the Year exemplify the district's ambitious goal of "Excellence for Every Child".
William Smith

Third Grade Teacher
Lonsdale Elementary School

Kami Lunsford

Chorus and General Music Teacher
Karns Middle School

Jennifer Williams

English Teacher
Gibbs High School
The celebration was sponsored by Comcast, Rusty Wallace Honda and Rusty Wallace Kia, who presented the three district-wide recipients with generous gifts of appreciation. Also recognizing the winners was Kroger. Thanks also to the Partners in Education Advisory Board for their leadership and assistance with the special night.
The Knox County Schools adheres to the Tennessee Department of Education guidelines for selecting Teacher of the Year award recipients. The number of Teacher of the Year recipients from each school is based on the number of faculty at that school. Schools are allowed one recipient for every 20 faculty members. To be eligible for the Teacher of the Year honor, each candidate must be a full-time, certified Pre K-12 teacher who has taught five years or more and spends the majority of the day instructing students. Candidates must also show dedication to teaching and possess a variety of positive personal attributes.
William Smith

3rd Grade Teacher, Lonsdale Elementary School

The Knox County Schools Elementary Teacher of the Year is a teacher who demonstrates curiosity and passion every day and champions the needs of his students and those in the entire school. From the door of William Smith's third-grade classroom—above which is a bright "Bienvenidos!"—to each desk within, this teacher ensures that each of the students in the classroom knows he or she is hand-picked to be there and is safe, welcome and respected. This educator builds a classroom culture that allows mistakes and has a structure to learn from them. By using small-group differentiated learning in both reading and math, Smith gives the consistency his students need and is able to address their individual needs to great success. Students in Smith's classrooms have regularly experienced significant gains in math and reading. This educator also is a leader for the school, serving as a TAP Mentor and Evaluator, member of the TAP Leadership Team, mentor for interns and Learning Leader for TNCore School Team Training. He is both a soccer coach…and quite a successful grant writer, having secured enough funding for iPads, books for the school library and educational field trips.




Kami Lunsford

Chorus and General Music Teacher, Karns Middle School

The Knox County Schools Middle School Teacher of the Year strikes a chord with students and colleagues. Kami Lunsford creates a risk-free environment where students can feel safe to express their creativity, set goals individually and as a group, learn what it means to live and work in a community and respect each other, themselves and their teachers. Each year, more than half of the student body are students of this award-winning teacher, and to this diverse group, Lunsford brings humor, clear expectations, encouragement and respect. Lunsford collaborates with teachers in the school to support their curriculum goals in her instruction. Relating to students is a strength for Lunsford, who freely admits to thinking "like a middle schooler." This method obviously works, for her choirs consistently receive ratings of Excellent and Superior in competition. Lunsford also is quite active in the community, helping with a bereavement camp for children and summer performance camps and is a featured performer for community organizations. This talented educator is a Lead Teacher and Evaluator, PLC Leader and Facilitator and serves on the school's Mentoring Team, the district's Music Department Leadership Team and Curriculum and Instruction Team.






Jennifer Williams

English Teacher, Gibbs High School

A teacher who combines passion with high expectations and creativity is the Knox County Schools High School Teacher of the Year. Jennifer Williams' love of learning was kindled at a very young age, and she has used this academic foundation to establish a personal set of beliefs that includes being a mentor in all aspects of a student's life; respecting students; exhausting all options when a student experiences difficulty; realizing that learning is a two-way street; and acknowledging both achievement and failure. Williams uses various methods to reach each student individually, methods that help students connect the classroom to the real world. She embraces the difficult language of William Shakespeare and helps students understand it through classroom performances and by creating new Shakespeare characters. Students also develop contemporary ways to express their traditional research, such as through a recipe, puzzle or song. This educator regularly solicits constructive criticism from students as part of her self-evaluation of assignments. Williams is a PLC facilitator, mentor for new teachers, Leadership Team member and department chair. As a Common Core liaison and presenter, she encourages collaboration and higher standards.
Teacher of the Year Honorees
Pre-K through 4th Grade
Kitty Menhenick
Rebecca Tipton
Natalie Drafts
Rodney Kiser
Susie Peterson
Mariah Danzey
Tiffany Holmes


Elizabeth Leinart




Terry Whitehead




Teresa Lawson




Jennifer Ellis




Laura Snapp




Melissa Williams




Amy Campbell




Honey Spalvins




Kimberly Harper




Jennie Williams




Christine Bock




Melissa McMurry




Amber Love




Ella Williams




Suzanne Binkley




Myron Sharp




Sandy Wallen




Elizabeth Toth




Lisa Walker




Kim Cameron




Abigail Coffey




Kyli Wooten




Erin Tharp




Melissa Bumgardner




Carrie Arana




Lisa Loftin




Shanda Loftis




Tommie Branscum

A.L. Lotts Elementary

Adrian Burnett Elementary

Adrian Burnett Elementary

Amherst Elementary

Amherst Elementary

Ball Camp Elementary

Bearden Elementary

Beaumont Elementary

Belle Morris Elementary

Blue Grass Elementary

Bonny Kate Elementary

Brickey-McCloud Elementary

Brickey-McCloud Elementary

Carter Elementary

Cedar Bluff Elementary

Cedar Bluff Elementary

Cedar Bluff Elementary

Cedar Bluff Elementary

Christenberry Elementary

Christenberry Elementary

Copper Ridge Elementary

Corryton Elementary

Dogwood Elementary

Dogwood Elementary

Dogwood Elementary

East Knox County Elementary

East Knox County Elementary

Fair Garden Family Center

Farragut Intermediate

Farragut Primary

Farragut Primary

Gibbs Elementary

Gibbs Elementary

Green Magnet Academy

Tracy Thomas
Amy Cox

Pam Huppman

Amber Massengill

Kerry Russ
Dawn Bowers
Ginger McNeeley
Tammy Roberts

William Smith

Myisha Dorsey
Lindsey Cohn
Lee Ann Carter
Jenna Creech
Jami Welden
Barbara Enloe
Selena Lawrence
Steve Davis
Terry Wright
Shirley James
Jean Anderson
Shannon Taylor
Paula Holland
Mitzi Burnett
Angela Childers
Susan Parker
Kara Haas
Nilda Carrasquillo
Jennifer Howard
Stephanie Riffey
Courtney Bartlett
Brenda Sage
Diane Przybyszewski
Hedy Collins
Wendy Markwood


Halls Elementary

Halls Elementary

Hardin Valley Elementary

Hardin Valley Elementary

Hardin Valley Elementary

Karns Elementary

Karns Elementary

Karns Elementary

Lonsdale Elementary

Maynard Elementary

Mooreland Heights Elementary

New Hopewell Elementary

Northshore Elementary

Northshore Elementary

Pleasant Ridge Elementary

Pond Gap Elementary

Powell Elementary

Powell Elementary

Ritta Elementary

Ritta Elementary

Rocky Hill Elementary

Sam E. Hill Family Comm.

Sarah Moore Greene Mag. Aca.

Sarah Moore Greene Mag. Aca.

Sarah Moore Greene Mag. Aca.

Sequoyah Elementary

South Knoxville Elementary

Spring Hill Elementary

Sterchi Elementary

Sunnyview Primary

West Haven Elementary

West Hills Elementary

West Hills Elementary

West View Elementary
5th Grade through 8th Grade
Kayla Canario
Lolly Ordonez
Michael Weininger
Lisa Houston
Jilynn Parmley
Sarah Akin
Leigh Anna McCann
Shawna Wolbert
Joanna Hood
Shelley Beckman
Jerri Ann Brock
Elizabeth Choi
Debby Frieling
Debra Holly
Nicole Thorley
Jessica Barner
Kelly Clemmer
Jennifer Cochran
Ani Roma
Sabrina Boling
Annie Henry
Karen Pallesen
Michael Sowards
Jenifer Feagins
Conni Durfee


Bearden Middle

Bearden Middle

Bearden Middle

Blue Grass Elementary

Brickey-McCloud Elementary

Carter Middle

Carter Middle

Cedar Bluff Middle

Chilhowee Intermediate

Farragut Middle

Farragut Middle

Farragut Middle

Farragut Middle

Farragut Intermediate

Farragut Intermediate

Fountain City Elementary

Gap Creek Elementary

Gresham Middle

Gresham Middle

Halls Middle

Holston Middle

Holston Middle

Holston Middle

Inskip Elementary

Karns Elementary

Karyn Lee
Kami Lunsford
Rhonda Keas

Brooke Coffin

Chris Daniels
Cheryl Robertson
Michelle Staal
Diana Noel
Beth Carter
Sarah Daniel
Janet Roach
Mary McDonough
Louise Negus
Rhoshawnda Turner
Justin McConnell
Virginia McGaha
Bryan Schultz
Walter Skeen
Kamau Kenyatta
Megan Maples
Mary Ann Hunley
Terri Kaiser
Laura Mann
Luke Askins
Dennis Groenke


Karns Middle

Karns Middle

Mount Olive Elementary

Northwest Middle

Northwest Middle

Northwest Middle

Norwood Elementary

Powell Middle

Powell Middle

Powell Middle

Ridgedale School

Ridgedale School

Shannondale Elementary

South-Doyle Middle

South-Doyle Middle

South-Doyle Middle

Spring Hill Elementary

Vine Middle

Vine Middle

West Valley Middle

West Valley Middle

West Valley Middle

Whittle Springs Middle

Whittle Springs Middle
9th Grade through 12th Grade
Douglas Iglehart
Melissa Wilkinson
Phillip Harris
Susan Bothman
Rebecca Nutter
Julie Rowe
Lori Thumler
Cara Vaughn
Beth Haun
Don Huddleston
Gregory Jones
John Alexander
Phyllis Ball
Cindy Blanchard
Valeria McKinley
Laura Webb
Florence Fillers
Ben Lyle
Allison Maldonado
Clare Brimer
Michelle Brossett
Erin Brown
Jason Harbison
Kimberly Kennard
Jeremy Sutton
Amanda Davidson
Jeffrey Jones
Leigha McCall
Jennifer Williams



Austin-East Magnet High

Austin-East Magnet High

Austin-East Magnet High

Bearden High

Bearden High

Bearden High

Bearden High

Bearden High

Carter High

Carter High

Carter High

Central High

Central High

Central High

Central High

Career Magnet Academy

Farragut High

Farragut High

Farragut High

Farragut High

Farragut High

Fulton High

Fulton High

Fulton High

Fulton High

Gibbs High

Gibbs High

Gibbs High

Gibbs High

Sarah Bateman
Hilary Brooks

Dorothy Lee

Tim Lee
Gloria Price
John Tilson
Vivian West
Rhonda Moore-Kerr
Cynthia Rhoden
William Goldman
Kelly Hicks
John O'Donnell
Chad Turner
Brad Crattie
Joe Foy
Jannice Clark
Susan Martin
Jim Porter
Lindsay Kennedy
Erika Neely
Paulette Clevenger
Melissa M. Ballenger
Julianne Bowman
Laura McCall
Rose Sexton
Byron Davis
Lisa Nelson
Arielle Street
Kathleen Colbert


Hardin Valley Academy

Hardin Valley Academy

Hardin Valley Academy

Hardin Valley Academy

Hardin Valley Academy

Knoxille Adaptive Ed. Center

Karns High

Karns High

Karns High

Karns High

Karns High

L & N STEM Academy

L & N STEM Academy

Dr. Paul L. Kelley Vol. Aca.

Powell High

Powell High

Powell High

Powell High

Richard Yoakley Transition

South-Doyle High

South-Doyle High

South-Doyle High

South-Doyle High

West High

West High

West High

West High