Return to Headlines
RoHAWKtics Rule at Regionals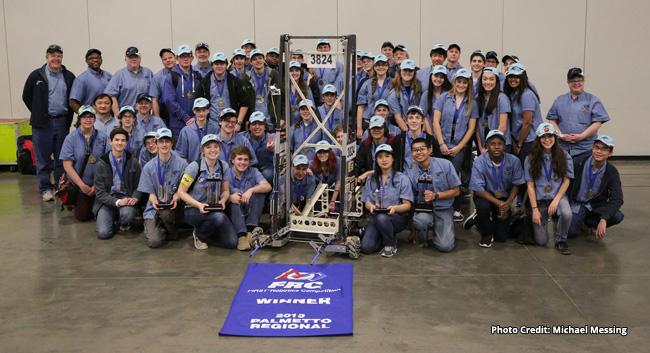 Hardin Valley Academy's FIRST Team 3824 won the Palmetto Regional FIRST Robotics Competition in February, earning an invitation to compete at the FIRST World Championship in St. Louis in April. This was the team's second win in a row at the Myrtle Beach competition. The team, nicknamed the HVA RoHAWKtics, also earned the Industrial Design Award sponsored by General Motors.
In this competition, students received game rules, robot guidelines, and a kit of parts in early January, then had six weeks to build and program a robot. The Palmetto Regional featured 66 teams from eight states and Canada – all which competed in a series of qualification matches over a two-day period. As the No. 1 seed, the HVA RoHAWKtics then had to select two teams to form an alliance, which competed in a series of elimination matches. Their two alliance teams were from Laurens, South Carolina, and Myrtle Beach, South Carolina.
Sophomore Joey Townsend said that it was great to win last year, but about a back-to-back victory, he said, "I can't believe it!"
Since winning the Rookie All-Star and the Highest Seed Rookie Awards at Knoxville's inaugural Smoky Mountains Regional in 2011, the HVA RoHAWKtics team has continued to excel, winning three regional competitions and earning six engineering design awards, one safety award, and the FIRST Robotics 3D Printing Award.
Through sponsorship of Oak Ridge National Laboratory's Manufacturing Demonstration Facility, students learn to use innovativeadditive manufacturing technology in building their robots. This year's robot, "The BAAMbot," was printed on the MDF's BAAM (Big Area Additive Manufacturing) printer. In addition, the team members have been strong advocates in helping regional teams access and use 3D printing. This expertise has led to invitations to showcase their robots and skills at national conferences, the 2014 White House Maker Faire, and numerous public appearances promoting STEM education.
HVA's FIRST Team 3824 will compete at the 2015 Smoky Mountains Regional Friday and Saturday, April 1-3, 2015, at the Knoxville Convention Center. For more information about the HVA RoHAWKtics program, contact Beth Love,
beth.love@knoxschools.org
.
About FIRST®
Accomplished inventor DeanKamen founded FIRST® (For Inspiration and Recognition of Science and Technology) in 1989 to inspire an appreciation of science and technology in young people. FIRST designs accessible, innovative programs to build self-confidence, knowledge, and life skills while motivating young people to pursue opportunities in science, technology, and engineering. FIRST Robotics competitions combine the excitement of sport with the rigors of science and technology. Under strict rules, limited resources, and time limits, teams of students are challenged to raise funds, design a team "brand," hone teamwork skills, and build and program robots to perform prescribed tasks against a field of competitors. It's as close to "real-world engineering" as a student can get. Volunteer professional mentors lend their time and talents to guide each team.
About the 2015 Game
RECYCLE RUSH is a recycling-themed game played by two alliances of three robots each. Robots score points by stacking totes on scoring platforms, capping those stacks with recycling containers, and properly disposing of pool noodles, representing litter. In keeping with the game's recycling theme, all game pieces are reusable or recyclable.