Return to Headlines
New State Education Chief to Visit Knoxville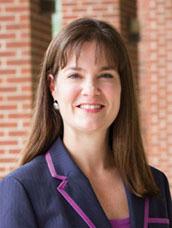 Candice McQueen, newly appointed Commissioner of the Tennessee Department of Education, will visit Knoxville on Thursday, March 26 to visit two of Knoxville's "community schools" and discuss her vision for the future of education in Tennessee. The community schools initiative, outlined in the Knox County Schools' five-year strategic plan and operated by the Great Schools Partnership, is a strategy for aligning community resources to improve academic outcomes, attendance, student behavior, family and community engagement, health and safety, school climate and neighborhood well-being. Commissioner McQueen will visit Pond Gap Elementary and South Knoxville Elementary Schools before her 7 p.m. public presentation at the Downtown Marriott. Free parking will be available.
Prior to her appointment, Dr. McQueen served as Dean of the Lipscomb College of Education and taught in both public and private middle and elementary schools. She earned her bachelor's degree from Lipscomb University, her master's in education from Vanderbilt and her doctorate from the University of Texas.
Great School Partnership President Buzz Thomas describes McQueen as "perhaps the most qualified person in the state to lead us forward at this critical time. She has created one of the most successful teacher preparation programs in the nation."
Knox County Schools Superintendent Jim McIntyre, who along with Thomas has served with McQueen on the State Collaborative for Reforming Education (SCORE), says, "We are excited to work with Commissioner McQueen in continuing to advance public education in our community and across the state. Her dedication and expertise will greatly benefit the schoolchildren of Tennessee and will help us achieve our ambitious gold of Excellence for Every Child."
Joining the Great Schools Partnership in its invitation to the new commissioner is the Knox County Education Association and the League of Women Voters of Knoxville/Knox County. KCEA President Tanya Coats says, "We are elated that Dr. McQueen has agreed to discuss her vision with Knoxvillians. This is an excellent opportunity for educators and community stakeholders to make plans that will benefit the students of our community.
League of Women Voters representative Ginna Mashburn says "We look forward to welcoming Dr. McQueen to Knoxville to introduce her to our fine public schools and to learn more of her vision for continuing this important progress."
Click
here
to download the event flyer.
Contacts:
Buzz Thomas 865.215.4501
Ginna Mashburn 865.584.0729
Tanya Coats 865.660.0822