Return to Headlines
Elected Officials, Community Leaders Get a Lesson in Personalized Learning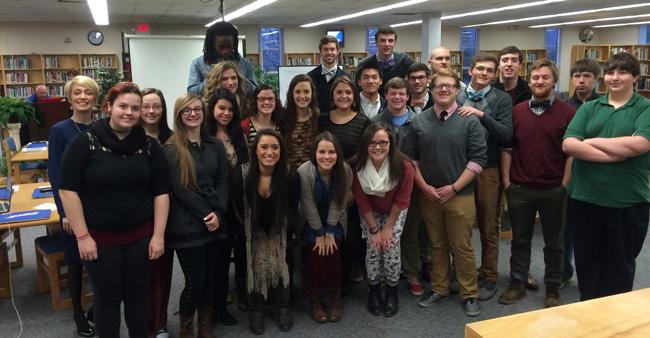 More than a dozen students from Mr. Robby Howard's AP Calculus class became "teachers" on Jan. 30. Their "students" were Knox County and state of Tennessee elected officials and area community leaders, who came to South-Doyle High School to learn more about personalized learning through technology.
The Personalized Learning Environment (PLE) Showcase gave education stakeholders an opportunity to witness firsthand the use of technology to elevate curiosity, accelerate learning and transform teaching in the classrooms of the Knox County Schools. Through presentations, simulations, tours through classrooms, videos, demonstrations and a question-and-answer session, attendees learned how technology can personalize learning for every student and individualize interaction between students and teachers, as stated in the Knox County Schools' five-year strategic plan, Excellence for Every Child. During the showcase, attendees spent time interacting with students and teachers to experience a personalized learning environment and learn about the benefits and challenges of this dynamic new classroom.
In one-to-one interactions, the students used their Macbook Pro laptops to demonstrate to their guests how to find the area of Fenway Park using the trapezoidal rule and Google Earth, an online mapping program. South-Doyle High School is one of the original 13 schools in the Knox County Schools who is participating in the School Technology Challenge, which in 2013 provided a computer for every student and teacher in the upper grades and several computers for each class in the lower grades.
The PLE Showcase demonstrated how technology can be used to individualize instruction and learning and strengthened the conversation about providing computers—and personalized learning—for all students in the Knox County Schools.
Students, staff, and community leaders

discuss personalized learning environments.

Mooreland Heights TPACK Coach

Amber Sawyer discusses 1:1 technology

at the elementary level.