Return to Headlines
Teachers of the Year 2014
February 25, 2014
Knox County Schools honored their Teachers of the Year at the annual banquet February 25. Pictured at left are the Knox County Teachers of the Year winners (l-r) Merry Anderson, (Karns Middle) Knox County Middle School Teacher of the year, Leslie Howe (Farragut High) High School Teacher of the Year, Kristin Risdahl (Brickey-McCloud Elementary) Elementary School Teacher of the year.
"Research shows that perhaps the most important factor in student learning is the quality of the instruction the student receives," said Dr. James McIntyre. "Our success, therefore, depends on having an outstanding educator in front of every classroom. Excellence for All Children means Excellence in Every Classroom."
A closer look at district winners
District Winners will continue on in the competition for Tennessee's Teacher of the Year in each of the three categories: Elementary, Middle, and High School.
The following remarks were taken from the introductions at the Teacher of the Year Banquet.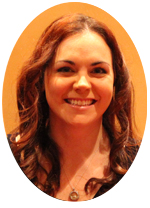 Knox County Elementary School Teacher of the Year
Kristin Risdahl
(4th grade, Brickey-McCloud Elementary School)
This talented individual has been a teacher for nine years, all of which have been given at Brickey-McCloud Elementary School. She is the fourth-grade Advisory Team chairperson and leads the Brickey-McCloud social studies vertical planning team. This extraordinary teacher also is the Knox County Schools Professional Development Specialist in social studies and is currently writing new social studies curriculum for Common Core State Standards. She gives her times as a mentor both for other fourth-grade teachers and to a University of Tennessee intern.
She brings creativity into the classroom by dressing up as historical characters throughout the year. She strives to engage students through a cooperative-learning teaching style and ensures her classroom is a safe, respectful environment. This educator gives her time to plan the school-wide talent show, assist with the Brickey- McCloud chorus and serve the AAA Safety Patrol. She also voluntarily does bus check-off every day after school!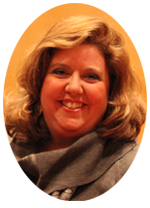 Knox County Middle School Teacher of the Year
Merry Anderson
(8th, grade Karns Middle School)
Enthusiasm, energy and a joyful perspective are tools used by this talented individual to have a positive impact on her students. With 19 years' experience in the classroom, this teacher currently teaches reading at Karns Middle School. There, she is a Lead Teacher, serves on the Leadership Team, Mentoring Team and Data Team and is a Grade-Level Team Leader and department chair. This leader also serves as a Common Core Coach for ELA, PLC facilitator, mentor for interns from several area colleges and presenter at conferences, in-service training and professional development sessions.
She also was an APEX Award recipient this year. This educator uses graphic organizers, differentiated learning, cooperative groups, individualized instruction, close reading, scaffolded instruction and accountable talk, among other techniques, to ensure student understanding and mastery. An active member of her community, she serves the school's PTSA and worldwide educational efforts, including the Children's International Summer Village.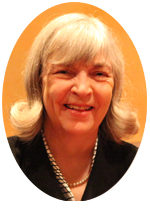 Knox County High School Teacher of the Year
Leslie Howe
(Computer Science, Farragut High School)
The High School winner is a pioneer, an adventurer and a vital member of her school community. With 35 years in the classroom, she has served her school as an invaluable technology resource—or as her colleagues say, a technology expert—for the past 18 years. She teaches AP computer science for 10th through 12th grades, AP Calculus AB for seniors and CP geometry for sophomores. But her work as Building-Level Technology Coordinator and her dedication to the school's math lab, touch every student and every teacher in all grades. This teacher is beloved by her students because she sees their relationship as that of craftsman and apprentice and assures her students that she will rejoice when their skills surpass hers.
Her impressive knowledge of technology and her ability to write original computer programs have assisted not only teachers and students in her own school but also those at many other schools throughout the Knox County Schools. Her dedication to helping students succeed extends through her own web site, which offers free activities that can help students master number facts. She also mentors students of families in her church. She believes in the adventure of education through the use of technology.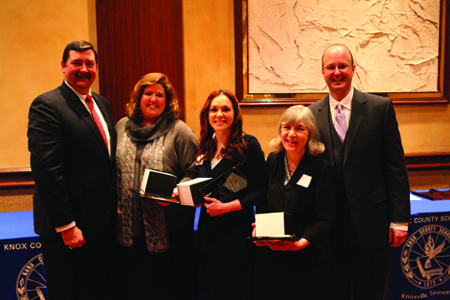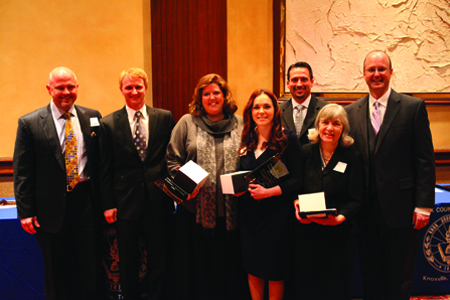 (L to R) Chad Campbell, Rusty Wallace Honda; Brian Kitts, Rusty Wallace Kia; and Mark Troutt, Rusty Wallace Kia, join Dr. Jim McIntyre, Superintendent of the Knox County Schools (far right), to celebrate educational excellence as presenting sponsors of the 2014-2015 Teacher of the Year Celebration.
As a presenting sponsor of the 2014-2015 Teacher of the Year Celebration, Comcast supports education in Knox County. Joining
Dr. Jim McIntyre, Superintendent of the Knox County Schools
(far right), in congratulating the 2014-2015 Teacher of the Year
recipients is Comcast's Russell Byrd.
Here is a complete list of Knox County Schools Teachers of the Year at each school: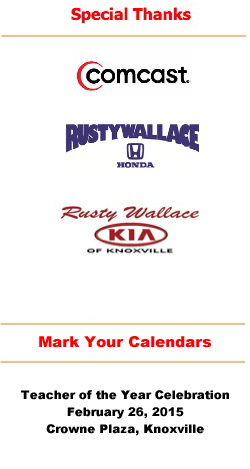 | | |
| --- | --- |
| Elementary Grade Pre-K - 4 | |
| Kelly Fawver | Adrian Burnett Elementary |
| Erin Kapp | Amherst Elementary |
| Sara Ramos | Amherst Elementary |
| Anne Cannon Crais | Ball Camp Elementary |
| Deborah Hulsey | Bearden Elementary |
| Kimara Reuss | Beaumont Magnet Academy |
| Betty Hall | Belle Morris Elementary |
| Barbara Gazaway | Blue Grass Elementary |
| Millie Knight | Blue Grass Elementary |
| Carol Jane Rule | Bonny Kate Elementary |
| Patti Lou Bounds | Brickey-McCloud Elementary |
| Kristin Lee Risdahl | Brickey-McCloud Elementary |
| Denise Strunk | Brickey-McCloud Elementary |
| Zel Bond | Cedar Bluff Elementary |
| Mandy Dye | Cedar Bluff Elementary |
| Andrew J. Klicka | Cedar Bluff Elementary |
| Alisa Ternes | Cedar Bluff Elementary |
| Felecia Sharp | Christenberry Elementary |
| Susie Baker | Christenberry Elementary |
| Scarlett Hopkins Householder | Dogwood Elementary |
| Tammy J. Lohren | Dogwood Elementary |
| Angela Velazquez | Dogwood Elementary |
| Steven Simpson | East Knox County Elementary |
| Kelly Lynaugh | Fair Garden Preschool |
| Susan Cobb | Farragut Intermediate |
| Chris Davis | Farragut Intermediate |
| Erin Tharp | Farragut Intermediate |
| Laura Mitchell | Farragut Primary |
| Sarah Emilee Young | Farragut Primary |
| Susan Foster | Fountain City Elementary |
| Rebecca White | Gap Creek Elementary |
| Tammy D. Farmer | Gibbs Elementary |
| Robyn Froning | Gibbs Elementary |
| Mary Wolfenbarger | Gibbs Elementary |
| Edward Moore | Green Margnet Elementary |
| Bonnie Bentley | Halls Elementary |
| Lauren Hopson | Halls Elementary |
| Kathy McGinnis | Halls Elementary |
| Sandra Guinn | Hardin Valley Elementary |
| Mary-Barlett Smythe | Hardin Valley Elementary |
| Allison Campbell | Karns Elementary |
| Diane Eubanks | Karns Elementary |
| Virginia LaRue | Karns Elementary |
| Debbie Smith | Karns Elementary |
| Haley Kesler | Lonsdale Elementary |
| Valerie Bachmann | Maynard Elementary |
| Amber Sawyer | Mooreland Heights Elementary |
| Sandy Hale | Mount Olive Elementary |
| Sherrie Young | New Hopewell Elementary |
| Jessica Greer | Northshore Elementary |
| Cindy Smith | Northshore Elementary |
| Josh Van Pelt | Norwood Elementary |
| Brian Patton | Pleasant Ridge Elementary |
| Kristin Ladha | Pond Gap Elementary |
| Jamie Ruth Terry | Powell Elementary |
| Donnie R. Woods | Powell Elementary |
| Lauren Allen | Ritta Elementary |
| Tonya M. Lewis | Ritta Elementary |
| Dodie Givens | Rocky Hill Elementary |
| Buffy Hensley | Sam E. Hill Pre-School |
| Kathy Coyne | Sarah Moore Greene Magnet |
| Rebecca Ratledge | Sarah Moore Greene Magnet |
| Megan Robinson | Sarah Moore Greene Magnet |
| Melissa Irwin | Sequoyah Elementary |
| Nilda Carrasquillo | South Knox Elementary |
| Donna Barnes | Spring Hill Elementary |
| Tara Ezell | Spring Hill Elementary |
| Linda Shanton | Sterchi Elementary |
| Joni Morabito | Sunnyview Primary |
| Becky Barnes | West Haven Elementary |
| Diane Przybyszewski | West Hills Elementary |
| Denise Rust | West Hills Elementary |
| | |
| Middle Schools Grade 5-8 | |
| Eddie Kilby | Adrian Burnett Elementary |
| Nancy H. Dunn | A.L. Lotts Elementary |
| Karla Fultz | A.L. Lotts Elementary |
| Sarah Mercer | Beaumont Magnet Academy |
| Susan Hatcher | Bearden Middle |
| Judith K. Holman | Bearden Middle |
| Suzanne Darden | Carter Elementary |
| Julia Olive | Carter Middle |
| Marta Shults | Carter Middle |
| Abigail Buczynski | Cedar Bluff Middle |
| Joanna Hood | Chilhowee Intermediate |
| Sherrie Dudley | Corryton Elementary |
| Beverly Douglas | East Knox Elementary |
| Karen Holst | Farragut Middle |
| Cindy Hutson | Farragut Middle |
| Ellen Smartt Manning | Farragut Middle |
| Mark Taylor | Farragut Middle |
| Kiley Gray | Gresham Middle |
| Bryan Paschal | Gresham Middle |
| Romy Reed | Halls Elementary |
| Shelley Weiss | Hardin Valley Elementary |
| Jeannine Griffin | Holston Middle |
| Paula Jones | Holston Middle |
| Tia Smith | Holston Middle |
| Olivia Davis | Inskip Elementary |
| Merry B. Anderson | Karns Middle |
| Teresa O. King | Karns Middle |
| Tammy B. Tipton | Karns Middle |
| Mary Lynn Tollison | Karns Middle |
| Suzann Goldman | KAEC |
| Tiffany Flood | Northwest Middle |
| Cheryl Robertson | Northwest Middle |
| Michelle Staal | Northwest Middle |
| Julie Killian | Powell Middle |
| Crystal Moore | Powell Middle |
| Kristy Roop | Powell Middle |
| Christina Hiller | Ridgedale Alternative |
| Melanie Ownby | Shannondale Elementary |
| Joy Hina | South-Doyle Middle School |
| Rhonda P. Hood | South-Doyle Middle School |
| Steve Mosadegh | South-Doyle Middle School |
| Bryan Schultz | South-Doyle Middle School |
| Jessica McDonald | Vine Middle School |
| Lesley Paige Miller | Vine Middle School |
| Lindsay A. McSween | West Valley Middle School |
| Sherry Storms | West Valley Middle School |
| Bobby J. Wells | West Valley Middle School |
| Tiffany Strasser | West View Elementary |
| LaDonna Knight | Whittle Springs Middle School |
| Laura Walston | Whittle Springs Middle School |
| | |
| High School Grades 9-12 | |
| Donna Brunson | Austin-East High |
| Dino Orucevic | Austin-East High |
| Ramona Mangelsdorf | Austin-East High |
| Megan Christian | Bearden High |
| Connie Francis | Bearden High |
| Dr. Charles T. Frye, Jr. | Bearden High |
| Tonya Henke | Bearden High |
| Tammy McKibben | Bearden High |
| Laurie Price | Bearden High |
| Cynthia Hutchens | Byington-Solway CTE Center |
| Beth Haun | Carter High |
| Ron F. Martinez | Carter High |
| Andrew Turner | Central High |
| Angela Bredding | Farragut High |
| Leslie Smith Howe | Farragut High |
| Allison Maldonado | Farragut High |
| Lindsey Smith | Farragut High |
| Barbara Wachter | Farragut High |
| LaToya Frazier | Fulton High |
| David W. King | Fulton High |
| Charles W. Negendank | Fulton High |
| Katherine Shanton | Fulton High |
| Dean Harned | Gibbs High |
| Angela M. Webb | Gibbs High |
| Jennifer W. Williams | Gibbs High |
| Trina Polston | Halls High |
| April Thomas | Halls High |
| Elizabeth E. Williams | Halls High |
| Michael Hartman | Hardin Valley Academy |
| Carleen Hodak | Hardin Valley Academy |
| Valarie Mills | Hardin Valley Academy |
| Seth Rayman | Hardin Valley Academy |
| John Tilson | Hardin Valley Academy |
| Kelly M. Gruhn | Karns High |
| Renata C. Krumm | Karns High |
| Chad Turner | Karns High |
| Caleb Whitworth | Karns High |
| Haley Holt | L&N STEM Academy |
| Jill Robbins | L&N STEM Academy |
| Jenny Jordan | Powell High |
| Jim Kennedy | Powell High |
| Rachel Kirkpatrick | Powell High |
| Laura Whittington | Powell High |
| Anita L. Rousseau | Richard Yoakley School |
| Kim B. Buchanan | South-Doyle High |
| Angela Fowler | South-Doyle High |
| Chad Hensley | South-Doyle High |
| Aimee C. Perry | South-Doyle High |
| Michael Carson | West High |
| Lou Gallo | West High |
| Valeria Schmidt-Gardner | West High |
| Lindsey Stinnett | West High |