Return to Headlines
Students' experiments bound for space aboard International Space Station
March 1, 2014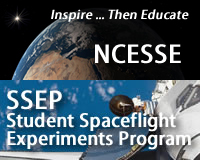 Students in the Knox County Schools have the opportunity to design experiments, one of which will be chosen to go into space. On March 1, 11:30 a.m.-1 p.m. at L&N STEM Academy (401 Henley Street), families are invited to learn more about the opportunity during an information fair and kickoff event.
The Knox County Schools STEM (Science, Technology, Engineering, Mathematics) Instructiol Program is sponsoring this school system-wide initiative to involve students in authentic science and offer them the chance to be part of theU.S. Space Program. This Knox County effort is the only such program offered in Tennessee. Knox County Schools is part of the Student Spaceflight Experiments Program's (SSEP) Mission 6 to the International Space Station (ISS). SSEP is a national STEM education program undertaken by the National Center for Earth and Space Science Education (NCESSE), in partnership with NanoRacks, LLC.
At the March 1 informational event, families and students can gather information about the seven- month process, ask questions and enjoy space-related exhibits and activities. Student teams should be formed March 3-7, 2014, and teams then commence to design their experiments at any of six designated work-site schools in the Knox County Schools during the research period, March 4-April 27, 2014. On May 1, 2014, three experiments are chosen as finalists and forwarded to NCESSE for a national Step 2 Review at the Smithsonian's National Air and Space Museum. One finalist proposal is chosen from the three and will undergo NASA Flight Safety Review before it is sent into space in the fall of 2014. In space, astronauts will perform the necessary protocols for the SSEP student research mission.
SSEP uses a commercial spaceflight payload, which will contain the SSEP student experiments that will be placed aboard ferry vehicles for transfer to the ISS. SSEP is the first pre-college STEM education program that is both a U.S. national initiative and implemented as an on-orbit commercial space venture.
Teams will reflect authentic scientific research teams by consisting of five students from various grades and experience levels. Students in Grades 5-9 can participate on the teams, while students in Grades 10-12 will serve as team mentors. Students in Grades 2-4 will be able to design the Knox County Schools mission patch that will accompany the experiment to the ISS. Students can form their own multi-grade teams or visit the school site of choice to be matched up on a team during the week of March 3-7.
"Nothing inspires like the mysteries of space," said Becky Ashe, principal at L&N STEM Academy. "This is an authentic science competition in which students work in project teams to learn about microgravity experimentation, design their own experiment to run, and then write a NASA-style proposal and directions to run it. There is no better or engaging support for Common Core-like thinking skills than the math, science and literacy that will be required to be successful in this endeavor," she said.
More information will be available beginning March 1, 2014, at
http://stem-k12-knoxschools.org
.
The Student Space Flight Experiments Program
is undertaken by the
National Center for Earth and Space Science Education
in partnership with NanoRacks, LLC.
This on-orbit educational research opportunity is enabled through NanoRacks, LLC, which is working in partnership with NASA under a Space Act Agreement as part of the utilization of the International Space Station as a National Laboratory.