Return to Headlines
Student surprises teacher with winning essay
May 21, 2014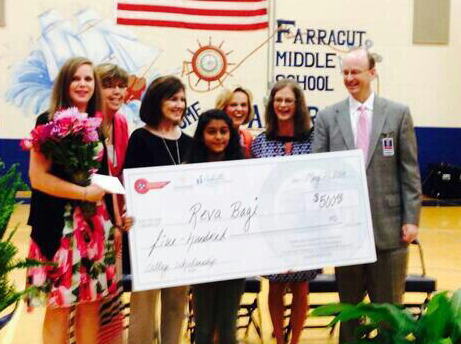 Reva Bagi, fifth-grade student at Farragut Intermediate School wrote an essay about her teacher, Niki Adams, that was chosen as a winner in a statewide contest. On May 21, Reva (center) recited her essay in front of the school, surprising Ms. Adams, a first-year teacher (far left). Reva received a $500 scholarship for her winning essay. The contest was offered through the Tennessee Department of Education and sponsored by Tennessee Business Roundtable, Tennessee Chamber of Commerce and Industry and the Nashville Chamber of Commerce.
NASHVILLE— The department celebrated three Tennessee students on Wednesday for writing winning
essays in a statewide contest highlighting the way in which educators impact lives. The winning students,
one each in elementary, middle, and high school, described the teacher they were most thankful for in
short essays and video messages. Representatives from the department surprised the teachers featured in
the winning essays in three separate events in Memphis, Nashville, and Knoxville.

The department launched the "Why I'm Thankful for my Teacher" essay contest for the first time in early
April. The contest, in conjunction with the department's efforts to celebrate Tennessee educators during
National Teacher Appreciation Week, May 5-9, was designed to share the powerful stories of learning
happening every day in Tennessee classrooms.

Hallie Humes, a second-grader at Crump Elementary School in Shelby County, and winner of the
kindergarten through third-grade category, submitted a video message about her current second-grade
teacher Joyce Latiker Davis.

"I really admire when Ms. Latiker Davis makes work out of games, and I like how she thinks of it very
quickly," Humes said on her video message.

Reva Bagi, a fifth grader at Farragut Intermediate School in Knox County, and winner of the fourth- through
eighth-grade category, described how her teacher, Niki Adams, makes her classroom a welcoming and
productive environment.

"Ms. Adams really takes the time to focus on each of our problems. Her mind works like the inside of a
clock. Gears are spinning, time is being used wisely, and best of all she slows the clock to make time for our
problems," said Bagi.

Hannah Balint, a freshman at Williamson County's Page High School, and winner of the ninth- through
twelfth-grade category, details how her eighth-grade Algebra teacher, Amy Tidwell, changed her academic
career.

"She is a brilliant woman who taught in ways that seemed hard in the beginning, but over time became
very manageable. She explained things to us and made sure that we understood them, which is one of the
most important things that a teacher can do for their students," Balint said.

Education Commissioner Kevin Huffman surprised eighth-grade teacher Amy Tidwell during Page Middle
School's eighth-grade promotion ceremony.

"We know that Tennessee teachers are working incredibly hard to help their students grow and achieve at
new levels. We are thrilled that nearly 3,000 students shared stories of how teachers have impacted their
lives," Huffman said.

Each student winner will receive a $500 scholarship to the college of their choice. The Tennessee Business
Roundtable, the Tennessee Chamber of Commerce and Industry, and the Nashville Chamber of Commerce
each donated $500 to make these scholarships possible.

Winning essays and video messages are also featured on the department's blog, Classroom Chronicles:
http://tnclassroomchronicles.org/.

For more information, contact Kelli Gauthier at (615) 532-7817 or Kelli.Gauthier@tn.gov.